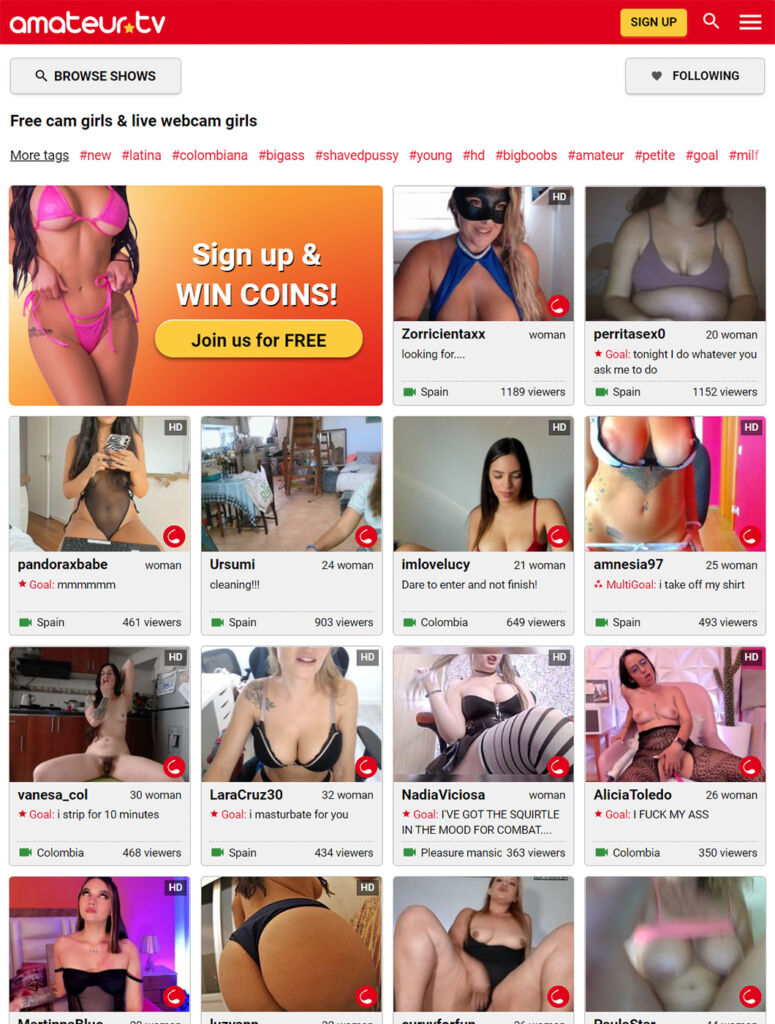 Fresh faces and fresh pussies for your eyes only! 👀
With tons and tons of live sex cam sites to choose from, how would we know which is which? Even the most promising names had us all stuck in the middle of a shit ton of ads, not knowing which one the live sex cam was. LOL. It is somewhat traumatizing, to say the least. And that's one of the reasons why many people are stuck with free and paid porn sites that can only give them so much. Not to mention bogus models on live sex cam sites, pretending to fuck around, but leaving us all not even anywhere near being dumbfounded. 
Here's yet another live sex cam site that looks quite promising. But in all honesty, though, Amateur.tv is pretty damn nice. Amateur.tv is one of the newbie websites in town. However, their makers have been around since 2005. After eighteen years in the porn biz, we should at least expect a twist in their new release, right? Well, a twist is what they gave. With Amateur.tv being a newbie, they offered nothing but newbies. But that's not bad at all! That is what we have been looking for for quite some time now. Yum! 
What newbie am I talking about? If you haven't been reading, the live sex cam site's name is Amateur.tv. What do you think that means? Alright, kidding and sarcasm aside, Amateur.tv is filled with all the drool-worthy and cum-oozing fresh amateurs we could ever dream of. The ladies they have are not just amateurs — they are mostly Spanish and Colombian amateurs! What a time to be alive! These chicas give everything they've under their sleeves in every sex cam they produce. All of Amateur.tv's models come from around the world, but at least a hefty number of them are Spanish and Colombian. 
Looking for cam2cam? Say no more! 
We all know what live sex cam sites are like. It's like a contest of who can give the most coins, tokens, cash, or whatever is called in each cam site. It's a war! If you only knew, I know you wouldn't have dived head-on into the sites you have frequented. It's okay, buddy; it can count as experience. All we ever wanted was a little privacy and some love from the model of our choice, right? But that's not always the case. And even if you did request a private show, all the cam girl will do is anything but rub their pussies. 
But since Amateur.tv is still a relatively new live sex cam site, their services have been pristine. Let's hope it stays that way. But while the iron is still hot, you better strike that fucking bitch. Amateur.tv is one of the live sex cam sites that allow cam2cam for the models and the customers. Requesting it is a breeze; you won't be left hanging after you've paid for everything. Whether all you've wanted was someone to talk to, have intimate online sessions, or fap together, you will have the time of your life with Amateur.tv's cam2cam feature. 
Make sure you have the time and money to do so, and you are good to go. With thousands of models to choose from and less competition, Amateur.tv is the live sex cam that will finally give in to your dreams. 
Amateur.tv features that may or may not strike your fancy. 🤭
Sure, cam2cam is nice. But what else can Amateur.tv offer to their paying customers? Oh, don't get me wrong. It's a live sex cam site, which means you can join for free and only open your wallet or swipe your card completely on your terms. Based on a shit ton of their testimonies, I figured out they're still looking for more models to masturbate on screen. You will mostly be able to see a shit ton of benefits that will lure in an aspiring model. But do they have any for their audience? Sure they do! It's not a lot, but it'll do.
More than cam2cam, you will have the usual private and public shows. Contrary to popular belief when it comes to cam sites, Amateur.tv hosts a lot of private shows. That's because their services (coins and tokens) are still more affordable than the rest of their competitors. But still, I don't see them changing their prices anytime soon. Maybe it has got to do with the fact that amateur models are always ready and feeling giddy to get down and dirty whenever and wherever. On the other hand, public shows are plenty for all the viewers with tight fists who don't want to open their wallets. 
Here are the other features of Amateur.tv that might raise an eyebrow or get you more than willing to hop in: 
Offline tips – Amateur.tv is one of the few live sex cam sites with this feature. This feature allows you to send tips even when a performer isn't going live or online. 
Following performers – members will be able to follow their favorite model and performer to get notifications whenever they are online or live. 
Liking and disliking – one of the most common features for live sex cam sites recently; Amateur.tv gave their customers the ability to like or dislike a particular sex cam based on their experience. 
Will Amateur.tv break the bank?
Live sex cam sites don't usually request credit card details immediately. That means you can join for free and shell out your desired amount whenever you want to, and if you don't, that's still okay. Amateur.tv is the same. But considering they're still new in town, many people think their prices should still be cheap. What do you think? You tell me. Check out Amateur.tv's pricing below: 
$3.99 for 3,500 coins 
$9.99 for 7,500 coins 
$21.99 for 20,000 coins 
$49.99 for 50,000 coins 
Surely, the prices won't break your bank or leave your wallet empty. But to give you an idea, each second on Amateur.tv's live sex cams, specifically, their private shows, range from 1,000 to 6,000 coins depending on the model. Figure it out from there. *wink*
Amateur.tv: 5 stars or no star? 
With all the chit-chat we just had, does Amateur.tv get 5 stars or no stars at all? Does it deserve the biggest thumbs-up ever, or not? Here's your answer: If we can give 5 million stars, we'll do it. Amateur.tv is a live sex cam site filled with nothing but amateurs and newbies in the sex cam industry. Their fresh faces and equally fresh pussies are unmatched. The girls don't even know how to moan on cue yet. Watching them fondle their tits, rub their pussies, and stuff everything imaginable up their cunts and asses is the reward you've always craved. 
With Amateur.tv being low cost and having several features that benefit the performer and the audience, it's one hell of a cam site that you don't ever want to miss out on. The fact that they continuously uphold their word and maintain to hire only amateur faces with little to no experience in fucking on camera is something that we should applaud already. You won't find anything like this in another ten years. LOL. 
Kidding aside, if you're looking for an authentic live sex cam site, Amateur.tv is the only way to go.