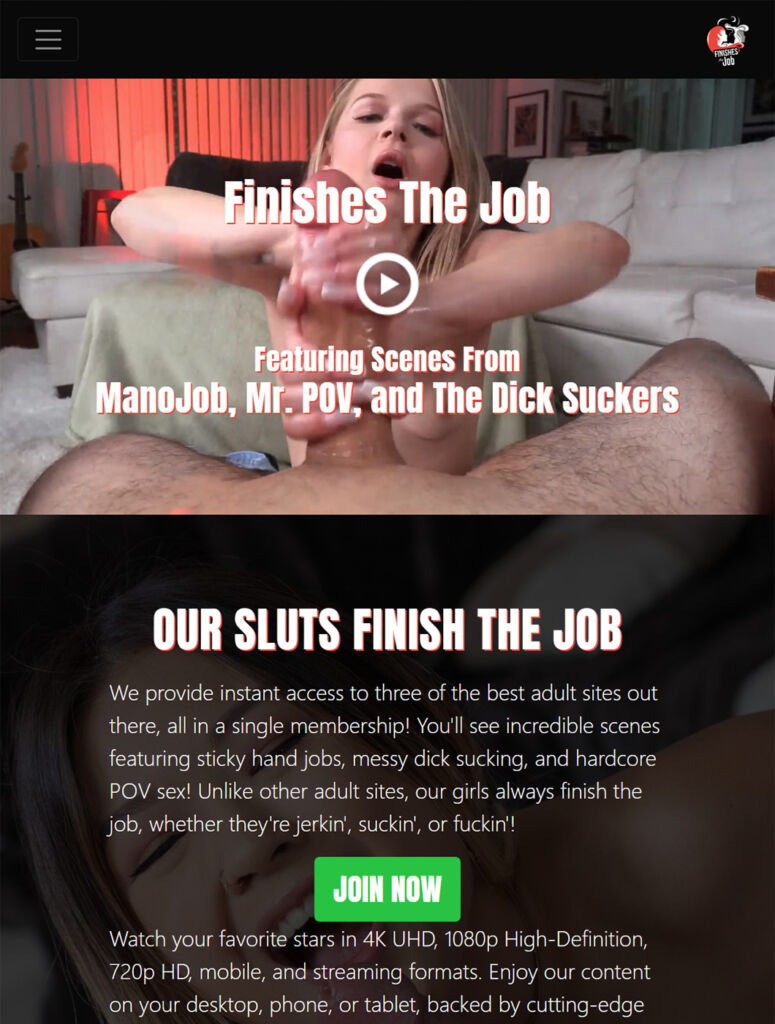 Don't you hate it when someone leaves the job you asked them to do undone when you need it? Yeah, the same goes for fucking. If I didn't cum, we better have another round. I know I'm not the only one. And watching all those porno performances without anyone ejaculating isn't as pleasurable as the ones with cum all over them, right?
Well, I'll have to welcome all of us to Finishes The Job. This glorious network holds three porn sites that will make us go crazy with each porno performance we watch. The girls they have don't get satisfied if they don't make their partners cum, and it's all done and shot in POV to ensure we all have the fapping we've always wanted to experience.
What do we have here? 🤔
Finishes The Job serves us three porn sites with different themes for us to go crazily horned-up on. It gets interesting by the day, but one thing's for sure: Finishes The Job's girls always get the job done by hook or crook. First, let's discuss the first porn site in the selection: Mano Job. By looking at the name, you'd think it's some manual job the beautiful babes have to do. Well, you're not entirely wrong. The beautiful teens in Mano Job make sure their handjobs are the most pleasurable. How would they know? By getting cum all over their hands, faces, or body.
Second on this dreamy list is The Dick Suckers. The name is pretty explanatory, don't you think? This porn site provides blowjobs so mind-blowing that the guys can't help but do mouth creampies and cum facials because of uncontrollable pleasure. The Dick Suckers lets you fill your eyes with tons of sloppy blowjobs and deepthroating.
Finally, Finishes The Job offers us this masterpiece of a porn site called Mr. POV, where all the fucking takes place. This porn site gives us POV-shot scenes of anal sex, vaginal penetration, all the sexual positions you can think of, creampies, and much more. Viewers can put themselves in the shoes of the lucky guy who gets to fuck gorgeous girls with killer bodies and tight, juicy pussies.
Will it break the bank? 💰
One network, three porn sites for one price, 1714+ porno performances, 1714+ photo galleries with approximately 130+ photos each, 1,666 models, and no download limit. What do you think? Will it break the bank or not?
You have a pretty good deal here, and if you don't swipe your card, it will be one hell of a loss. But let's talk about the prices. Currently, Finishes The Job only offers three kinds of reasonable membership plans you can choose from: 
$29.99 for one month 
$74.99 for three months 
$199.99 for one year
So, what do you think? Not bad, right? All of these plans are recurring to save you from all the hassle. And, of course, aside from having full access to three different kinds of porn sites, you'll also be able to have lone rangering sessions with a few porno performances from Amateur Allure.
Give yourself a treat by indulging in what Finishes The Job offers.