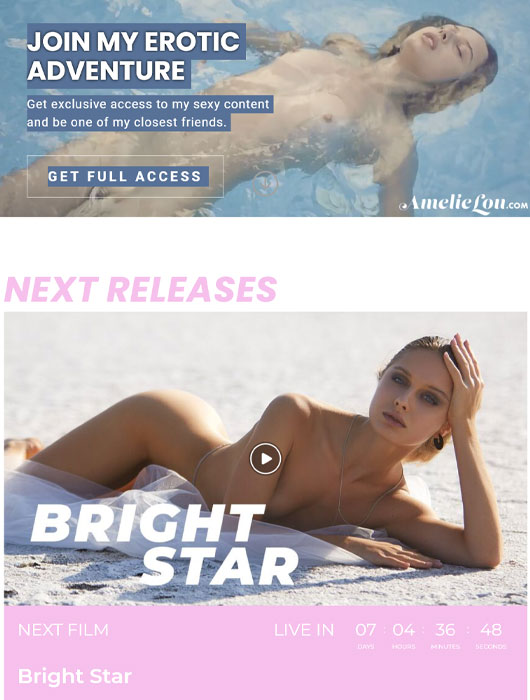 Amelie Lou is like that one kid who follows all the rules down to a T, only for you to discover she has a hidden kink, or even better, a porn site. The link feels like I'm going to go on a lingerie-selling website, but damn you'll be surprised. Amelie Lou definitely feels and looks like a premium version of all the ladies you've been watching getting fucked. As fragile and as skinny as she looks, her up top skills will never disappoint. She serves softcore porn and erotica as delicate as her looks. If you're up for some calm fucking, then let me welcome you to the right place.
Her website has a rather feminine approach, but if you want to have some spicy time with Amelie Lou, you can conveniently toggle the small switch on the upper right of the site to turn it into dark mode. Other than that, Amelie seems like she's made for the fancy-schmancy schlongs that smoke fat cigars instead of cheap convenience store cigs.
Immediately after entering the site, you'll be greeted with a preview of Amelie Lou effectively seducing you to join in with her in her erotic adventure by gaining access to her sexy content and everything that comes with it. Her content is obviously already professionally crafted and you'll be surprised at how you get more than your money's worth with just one sexy lady.
Before we start, let me just say that this one is for all the softcore porn and erotica lovers who live for premium content and drool over sexy, skinny bodies with small titties and cute booties. If that's not your liking, you can scoot away now.
Sexy, Sultry, Personal
Remember accidentally coming across some hot GIFs on Tumblr that left your dick rock hard? Amelie Lou is exactly that, except that almost all of her content will leave your cock throbbing, and the rest is made up of small snippets of her life. Her skinny body is similar to a super model's and her sweet face will have you hooked in a coming back for more. She has all the reasons laid out why she pursued a career in porn and I'm not gonna lie, she's rather good at it.
Amelie's approach is rather modern, more than the simple fucking that we're all used to seeing. She'll have you laughing and trying to figure out life with her, but what's more important is that you'll be fapping nonstop at her drool-worthy content. You might have even seen her at top-notch sites like MetArt, Playboy, and Superbe Models. That's just how premium she is.
When I say premium, I mean just that. Not only does she look like she just got out of a photoshoot from Chanel or whatnot, but she'll be serving you your money's worth, and actually probably more than that. To think this lass is only 23 and she's already making so many cocks jizz.
Amelie Lou's website is pretty easy to navigate, and you'll get to where you want to be in just a click or two. She offers her films that are made up of top-of-the-line erotica. You'll get lost with so many choices, and you'll equally get hooked on how professional her films have been made. Is this really porn or some HBO shit? I know, right?! Amelie also provides photo sets so you'll get to see her naked or lingerie-clad body anywhere you wish her to. In the middle of the field, on the beach, inside a room, on the bed, you name it and she'll serve it to you on a platter.
More than that, Amelie offers her selfies, bits of her personal life, a one-on-one chat (text or video call), and some much-awaited and much-loved custom content. She wants to get down and dirty with you and not leave you hanging about what's happened, so here's direct access to her life at an affordable price.
Right off the bat, Amelie Lou offers a 70% discount if you choose the annual plan for $119.95. But if you're just testing the waters, there's a 2-day trial available for only $1. You can spoil Amelie Lou with gifts, help her with her tuition, request for strip teasing, nudes and topless photos, or simply just have a chat with her about your dick, her hairless pussy, or even about life. It comes for as low as $1.99 and as high as $1500. Either way, it's premium softcore porn and erotica content at an attainable price, and Amelie Lou is more than willing to open her fapper's paradise to get it going with you.