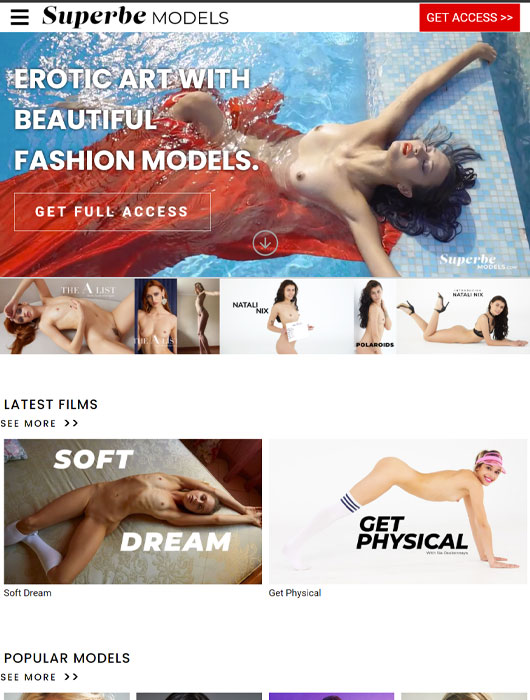 Got a liking for some fancy fucking? Well, technically, not really fucking, but we'll get there. Let's have a walk-through. Superbe Models makes you think that the site's all fancy-schmancy, but really, it's just a buffed-up version of Instagram with naked models seducing you all around. By all around, I do mean from around the world, as you'll see these beautiful faces posing in different countries and even secluded places.
The website has a minimalist approach and it's actually pleasing to the eyes. You might arrive at an impression that Superbe Models are made for the highbrows with sophisticated boners and whatnot, but really, it primarily floats almost all the boats out there. You've basically stumbled upon a treasure trove full of skinny, naked ladies and gents. When they say models, they really mean models. Like the ones you imagine would strut down the catwalk wearing designer brands, but instead, these premium-looking lassies pose with their poker faces and peeking nipples ultimately for your pleasure. It's a whole new approach to erotica and is actually a refresher if you're used to fapping at hardcore fucking as I do.
According to their social media, they're based out on the shores of Los Angeles, but just like what I mentioned earlier, they shoot around the world with pretty American, European, Latina, and Asian faces, just to mention a few. The photos are obviously shot by professional photographers. Some shots are similar to what you'll be able to see in some erotic, explicit Tumblr and Instagram accounts, but this essentially reveals more skin. If you're looking for something more drool-worthy and something that'd make you go a little loco, you've definitely come to the right place.
Before you go unzipping your pants and lashing that dick out, I gather Superbe Models ain't for the ones looking for intense action and really, really unruly but seductive photosets. You'll definitely get what you want and what you're essentially looking for to get that fapping started, but just imagine you'll be served with caviar instead of anything else under that price point.
Like Time Traveling, But Better
Remember those precious moments when you secretly stole your dad's stash of Playboy magazines or your mom's cosmetic and lingerie catalogues just to fap in the silence of the night, praying you won't get caught or get questioned in the morning? Yep, good old memories. Going on Superbe Models feels exactly like that, only this time you're not hiding from anyone and you can actually go wanking at any time of day. Ain't that a delight? It's a big catalogue of classy chicks posing in wild places and even on horses, much like a liquor brand's calendar release.
It's a whole new approach even with these babes flaunting their pussies, butts, and titties. Even though the ladies are openly exposing their whole bodies in public, or basically anywhere, the fine premium feeling is there as you'll notice impressive framing, professional poses, and just an all-around executive vibe in each photo and video you'll come across. It might even feel like an advertisement. Nevertheless, everything is made for your ultimate pleasure, and it'll surely get your blood going, to say the least.
When they say superb models with an 'E', they mean Superbe Models and nothing less. These girls look like they came straight out of a Vogue photoshoot. This one's made for those who've got a liking for slim and sexy girls with little tits and a butt that fits exactly in the palm of your hands. They are made for high fashion and they look like they come from high fashion. If you're shelling out money, then I will assure you you'll be getting actually more than your money's worth on this.
Right off the bat, your eyes will be filled with all the titties and asses that you can ask for. But you know, sometimes some photos are just too professional for your boner's liking. It is centred on erotica, but one of the downsides of it is that you can even find erotica content on Tumblr and other sites for free. It's just not the same as porn, no matter how other people think they are. But worry not, though, because there's actually a lot going on around Superbe Models more than just artsy posing in the middle of beaches, and that's just the tip of the iceberg.
One of the perks that you'll surely enjoy in Superbe Models is that they drop new content every single day. It's not only exclusive to photos, but videos, clips, and other exciting deals as well. You can even track when it'll update as there's a countdown on the main page to keep things exciting. While you're waiting, you can easily view some previews of your favourite models' clips, not to mention the most awaited photo sets that Superbe Models boast.
If you're in the mood for some quick jacking off, then Superbe Model's got everything laid out for you. You might have to venture off to another site if you're in for a little bit longer than a quickie because of most of the things here last like a TikTok entry. But let's take a deeper look into it.
What You Give is What You Get
Fancy-schmancy content comes with fancy-schmancy pricing, too. Well, it depends on what kind of plan you buy. There's definitely something made for you and your wallet over here. Superbe Models give out discounts, too. Their Valentine's Day sale is still up and running even if the love month's long gone already. Once you sign up, you'll get a hefty 70% off of the annual price. That big of a discount only applies to that big of a price. If you choose to get the 3-month plan, it's currently available at $59.95. A month costs $19.95 and that comes with a 30% discount. If you're just testing the waters, they offer a two-day trial for only a one-time payment of $1. The pricing isn't so bad, huh? For that kind of content, that's more than a bargain. But then again, if you're looking for some rough fucking and gaping holes, this isn't the door you should be knocking on.
For a website that's relatively new, Superbe Model is really getting its games up. I'm not gonna lie though, at first glance, this site looks like an established one, more at par with the experts in the porn industry. There's quite a number of contents now given that they update every single day, and that really makes up for the prices that you're going to pay. With these kinds of content, you'll never be disappointed with the upcoming ones.
Of course with that price point, you'll be able to download as much content as you want. It's getting pretty common for porn sites to offer downloads and a number even do it for free. But with this one, you'll need to see what you're gonna get to justify the price. I can't lie though, you reap what you sow, and you'll definitely be reaping a lot of premium pussies.
What's Inside?
I know, I know. For a porn site that's quite pricey, you'll want to take a peek first. Fortunately, Superbe Models do not disappoint. You got a lot on your plate here. I've been rambling on and on about photo sets, but there are actually films, behind-the-scenes photoshoots, selfies, casting, and a blog. We've all seen these words before on countless sites, but with Superbe Models, there's always a premium twist.
The blog contains information about new models, their backgrounds, and how they got here, but that's about it with that. Meanwhile, in the castings section, you'll be surprised about how it's nothing similar to the castings we've always been used to. No fucking on a black couch, or roaming around the city getting fucked in a car. Instead, you'll see models in all their naked glory getting all sensual in a professional setting.
My favourite section is definitely the selfies. It gives me a more personal approach to what the models do after all the glitz and glam of high fashion stripteasing. This time you'll be able to see them getting fucked, jizzed on, and so much more. It's an explicit Instagram and you're in for a treat, but you'll have to pay to get that reel going.
In the films, you basically just see them and their skinny bodies going on adventures and getting naked along the way. It's as erotic as it sounds, yet the quality of the video remains unmatched. I think I've been repeating myself, but what you see in Superbe Models is as exclusive as it can get. The models are as natural as ever, and it's probably the most authentic content you'll ever get your hands on. It's as high-end as you think it is.
If you dream about a life smoking premium cigars, drinking expensive liquor on a yacht, or if you are already living that life, this one definitely fits the bill. Fap your high-end dick endlessly on this one, and you're sure to reach the peek of pleasure, surrounded by fashionable ladies expertly dabbing in erotica. Or if you're into really fine softcore porn, who's to stop you? Nevertheless, Superbe Models is a pervert's paradise that you'll definitely want to live in.