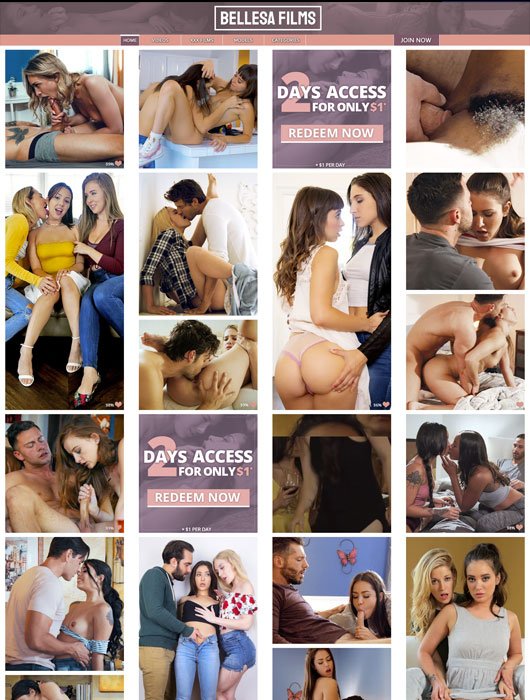 The general pornographic structure of most sites is tailored to men's desires, which is what got me thinking… What about all the horny women who are just dying to make a puddle? 🌊 💦
Well, Bellesa Films is a porn site dedicated to women. Their name, I am assuming, comes from the Spanish word Belleza, which roughly translates to 'beauty'… together with a longer translation that can be found on Google Translate.
The niche is quite obvious!
They are aiming to make quality pornographic content that is produced and written by women for women. 💋
Fucking a girl who is drenched in her own juices and then stopping since she is mad at something I may have done/said, is not a foreign thing to me… 😩
Men tend to use their downstairs brain a lot, thus we tend to skip all the romantic bullshit… Women, on the other hand, are capable of actually using their brains 🧠 even when they are horny, which is fucking unbelievable.
I was looking for a site that offers more than just ass, tits and cumshots, and that is how I came across Bellesa Films; a porn site with amazing titles, believable stories, passionate sex, romantic atmosphere and simply a lot of chemistry.
Who do we have to thank for such amazing content?
The site is fairly new, or so I would like to think as they do not have that many scenes yet. BellesaFilms.com is actually a studio that is geared towards what women desire.
Jacky St. James is a director who has an incredible skill when it comes to storytelling and does a fantastic job illustrating the passionate, and erotic side of sex.
Breathtaking models
Upon my first visit, I was actually stunned by their beauty, and I am not even bullshitting. I mean, these women are like from a whole new universe…
The chicks are all different, from their ethnicity to the shape of their tits and pussy. However, when it comes to fucking, they are all passionate, sensual, and sexy.
So, what kind of videos does it offer?
Stating that this place has 'porn for women' is quite a board subject. However, they do cover everything that was expected, and I ain't even joking.
Their categories are quite basic; for example, they have lesbian, petite, couples, pussy licking, threesome, female orgasm and so on…
While they do have some filter options, those were fucking sad. 🤦‍♀️ I've seen free sites with a better search system, than whatever the fuck they think they created…. And I had to pay for this shit.
Now, I am not sure about the ones reading, but me and my wife, we prefer the kinky shit. So, all of what they have to offer, is pretty basic. But hey, to each their own, am I right?
All the videos have their own storyline… The first video I checked out. Made my dick rock solid. It featured a cute brunette Kristen Scott, who decided to get her first tattoo… but we all know what happened after she took off her clothes.
Another video that I have to mention, featured Jane Wilde and Emma Straletto, who were in a relationship, but decided to spice things up a bit with a dude… and thus, their sex life turned into a hot bisexual threesome.
Becoming a member is simple
Honestly, the majority of these premium porn sites will make the whole sign up process simple. There was signup on top of the site… and if I clicked on anything that required the membership, it redirected me to the page.
As for the actual process, there ain't much to say. I chose the membership that made the most sense to me and then paid for it. After that, it was pretty much just enjoying the show… or should I say, passionate pornography.
They had the usual membership offers; aka the monthly membership, the 3-months membership and the yearly membership. I was happy to see that they included the 2-day trial membership as well… but I prefer to get straight down to business, so I purchased the 3-month one.
It was interesting that I had plenty of ways to pay for this shit, including crypto… Although, who in their right mind would use the crypto currency to pay for porn?
On top of that, it is also possible to upgrade the membership and gather more bonus content if what they already have to offer is not enough.
Great bonus content 👌
Other than getting bonus content with the upgraded membership, there are over 200 bonus movies on the side as well. It is also considered as bonus content, and when I saw all those movies, I was quite happy.
Not to mention that they have regular updates, thus we all know that the site is growing! I am sure, my wife will be happy to hear that. I was planning on gifting her the subscription to this place on our anniversary, as she is a porno fanatic, just like me!
Easy navigation and no ads!
If I pay for a site, I expect it to have no fucking ads, and that is what I appreciate with BellesaFilms.com. All the videos are listed at the homepage, and everything is pretty straightforward.
The statistics are solid… I guess
So, there are about 26 movies on the site currently, which does make sense since Bellesa Films is fairly new, or so to speak. They are uploading their own exclusive and passionate content.
All the scenes are filmed in full HD… I'm talking about the 4k quality yo! 👀 I never knew I needed to see all those details, but damn… say goodbye to pixelated porn!
No matching photosets
Sadly, the videos do not come with matching photosets, which is a bit of a downer. However, I was able to browse the profiles of the models, and their images can be saved… better something than nothing. 😔
No downloads
I can't say that I am sad because of this since I prefer to watch my porn online. But then again, if I have fucking paid to watch their shit, they might as well let me download it. The fuck? 🤬
Conclusion
I guess the moral of the story is that women are not just sluts who are designed to eat dicks. That is why, Bellesa Films has an amazing selection of about 26 pornographic videos plus bonus content, featuring the most sensual girls out there, who love to be pounded with romance, passion and all that crap.
So, if you are tired of the same-old porn content, where sluts get treated as meat slabs, you might as well consider visiting BellesaFilms.com.
Both me and my wife enjoyed their romantic and cinematic approach to porn since it was a rather new experience… and if you start by checking out their trailers, I am sure you'll be registering the next minute… otherwise, you might be an idiot. 😏
Porn for women, created by women.
4k quality porn!
Regular updates!
Filter search options suck.
Not that many scenes yet.