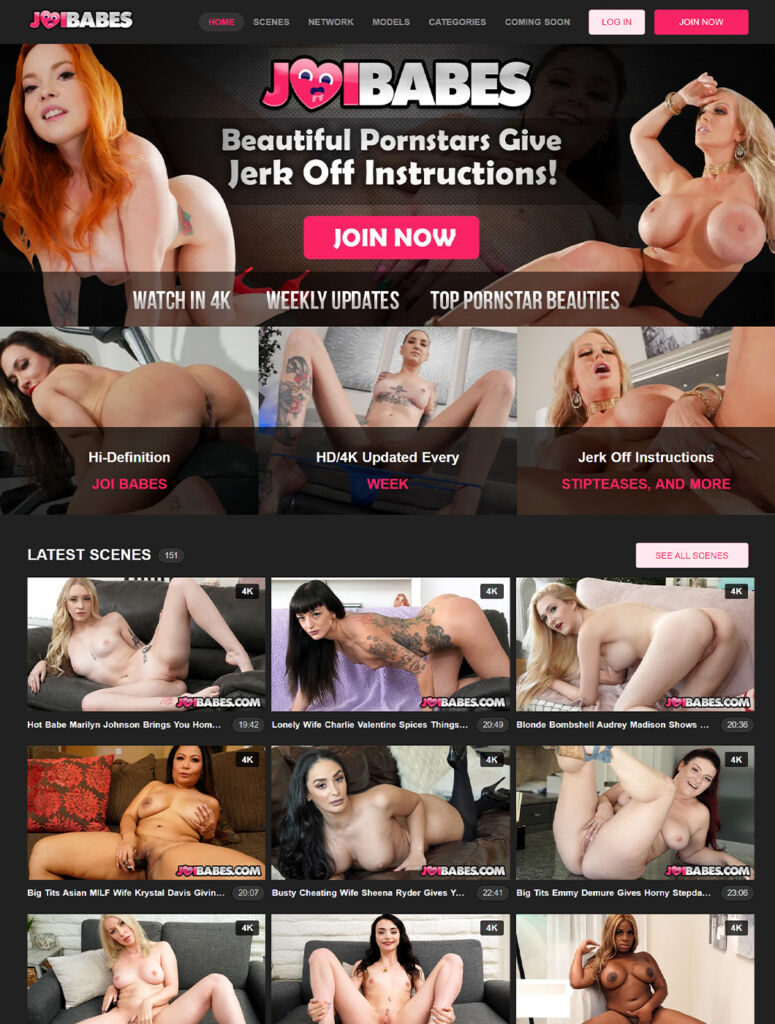 If you're not yet familiar with this term, JOI means "jerk-off instructions." I'm pretty sure you've seen a few JOI pornos while still learning how to make your fapping times better than the last one. I mean, is there anything better than a porn star instructing you on how she wants you to stroke your already throbbing cock? Yeah, I thought so, too.
JOI porno films have been around for as long as I remember, but they've recently been on the rise because of the boring days of the pandemic. It's a good thing porn was made, or else we'd be batshit crazy by now. We all have our dick-stroking techniques that have served us well throughout the years. However, those techniques might get a little rusty for everyone's liking. That's when JOI Babes come in.
JOI Babes is composed of hot, sexy, crazily horned-up beauties with a dildo in one hand, ready to make your jerking-off sessions immaculate. These ladies, unsurprisingly, probably have more knowledge about cocks than you do. The luscious ladies of JOI Babes are here to make your solo sessions all the more interesting and less boring, bringing you more cum and pleasure than your regular pornos ever will.
The best lesson life has to give 😋
Why settle with plain old XXX films that let you drool while you shake the milkman alone in some cold, dark room? Well, it used to be the way to go, but not anymore. Indulge yourself in high-quality JOI porno films with girls to die for. JOI Babes have situations that'll surely wake the beast in you. No worries, your hand will be more than enough if you don't have a pussy by your side.
It's not only your sexual fantasies and cravings that will be successfully met here; the porn stars and nubiles you'll be laying your eyes on will project their cock fantasies and cravings to you, adding spice to your boring masturbation sessions. Watch and learn as they tell you exactly how they want you to stroke your cock. JOI Babes' porno movies are the best lessons life has to give.
The beautiful babes at JOI Babes use dildos and vibrators as visual aids to help you understand how they want you to reach the big O. Depending on the babe you choose; they'll tell you how slow or fast they'd like you to stroke, prolonging the orgasm that you'll get. That's not even the reward yet. I understand if you can't listen to every masturbation lesson properly. It's easy to get distracted by the girls' hot bodies, big boobs, bubble butts, and dripping wet pussies.
More girls to help you cum
Of course, every lesson won't be complete without a hot babe wanting you to give in to their cock-stroking pleasures. JOI Babes allows you to choose whoever you want to teach you in each masturbation session. You can choose from many models, and they're all neatly arranged by category, so you don't get lost in this bottomless pit of pleasure.
Asians, Americans, Europeans, Latinas, redheads, MILFs, barely legal bangers — name what you want, and JOI Babes will serve her to you on a shiny silver platter. The porn stars on this porn site all participate in role-playing situations that will have you all perked up even before you unzip your pants.
The scenes get interesting by the minute. You can have your wife's best friend command you how she wants you to wank, a hot neighbor showing up knowing you're home alone, or an angry girlfriend mad that you're fapping without her, so she decides to take over. Whoever you choose, you're bound to get the fapping of a lifetime.
Give yourself the wanking you deserve 💸
Spare yourself the bore of having a lone rangering session in front of an unnecessary long XXX film that only lets you watch and not participate in all of the action. Wanking is only as fun as you let it be, so make sure you get the ultimate experience that you deserve. You know very well you'll only find that in JOI Babes.
Of course, before you even enter the gates of heaven, you'll need a membership. As of writing, JOI Babes offers only three kinds of membership plans that you can choose from:
$19.77 for one month 
$74.95 for three months 
$149.95 for one year 
All these plans are recurring to save you the hassle of going through the payment process repeatedly. JOI Babes accepts payments from Diner, Discover, JCB, MasterCard, and Visa through SegPay.
Welcome to the bottomless pit of pleasure
To give you an overview, here's what's in store for you at JOI Babes:
101 porno performances, all in 4K ultra HD, which can be downloaded in every gadget imaginable 
101 photo galleries containing approximately 100 high-resolution photos each, all downloadable via zip files 
132 models from around the world for you to choose from
Remember that there's no download limit as long as you have a membership. JOI Babes also updates their stash daily. But of course, JOI Babes fully understands that watching the same kind of porno films, even in different situations, might get boring. That's why they'll also provide you full access to Les Worship, Trans Roommates, Japan Lust, and more. That's an additional 1,500+ videos to your XXX roster. I don't know what will if this doesn't give you the pleasure you've been looking for and more. Fap it out to find out, and I'm sure you'll be hooked in no time.