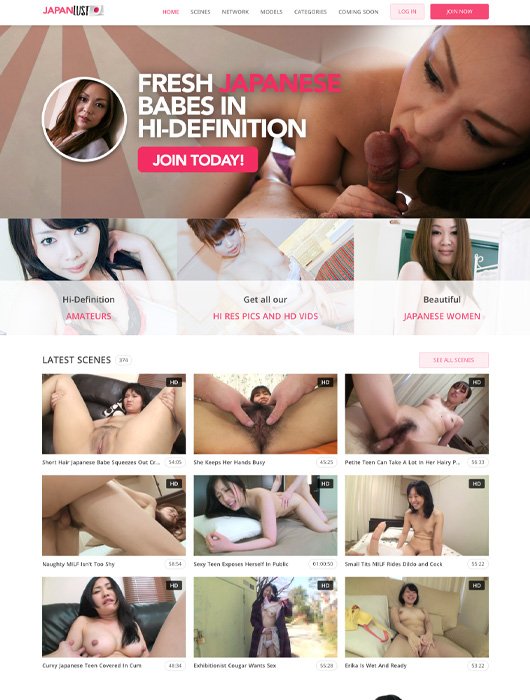 A few blocks from my place is a Japanese steakhouse. Dinners there cost too damn much for my cheap ass, but I love walking by. Every night of the week, one of their adorable greeters can be gawked at from the sidewalk, and I always sneak a few peeks of the hostess du jour.
Young Jap chicks are sexy as fuck in their tiny designer outfits. Their tits and asses are so small, they barely fill out the clothing. Cute, polished grins adorn their delicate faces, their almond-shaped eyes, so curious. They make this sick fuck swell at the thought of getting to screw a gal so petite, that she looks like a hard sneeze could break her in half.
J-Porn, the Next Best Thing to Banging a Jap Babe
Since no Japanese girl worth her weight in sushi would ever fuck this sufferable gaijin, I am forced to get my taste of the Orient through porn. I just happen to be a healthy skin flick consumer, so I'm okay with that.
Enter JapanLust.com.
This site, from the ARX Bucks network, features the hottest gals getting naked for pay in Japan. These demure ladies, who typically look like submissive lovers on the outside, unleash their inner sex kitten while getting the sexual fix they so desire. Every dirty movie stirs my pot and is surprisingly long, but there is something extra, extra special about Japan Lust…
Non-Censored Japanese Porn 🙌
If you like watching Asians fucking on film, you know that there is a lot to love about the sounds Japanese girls make when their holes are stuffed full. What you would also know is that these movies are almost always pixelated. That fucking sucks. What's porn without the pussy?
At Japan Lust, there are NO pixel clouds 👍
When I signed up for Japan Lust, I did so because I was so tired of missing the good parts in Asian porn. I was eternally grateful to finally get to see p-in-v when the aforementioned "v" is a tight, tiny Japanese fuck box.
Impressive Archive, Regular Updates
Launched in the summer of 2019, the site has built a rather large collection. Their update pace seems to be every 2-4 days. Anyone getting a membership now is going to have hundreds of scenes to catch up on. They must have loaded a bunch before going public.
All of their exclusive 4K and HD movies are watchable on whatever device I can get my sticky hands on. They claim to use the best universal video formats to build their sites to work great on all devices. I take them for their word. The videos look good, though I can't verify if they are all newly produced.
The Casting Call Format Works Well
Videos at Japan Lust don't carry much of a plot beyond mostly all following the porn casting recipe. Girl gets interviewed, girl uses fingers or a toy, guy swoops in to save the day before girl brings herself to orgasmic heights. It's not exactly a novel concept, but, hey, they lack boner-killing pixels, so I'm not going to complain.
Before some idiot tries to bust my balls for bragging about a site using the same tired format in most of its content, hear me out. The appeal lies in the variety of girls they cast. They even have some granny porn on hand. 😮 You know Asian ladies age pretty damn well!
Asian porn features too many hairy panty hamsters, so I like their fresh selection of spinners with fuzz-less peaches.
Though the interviews are in Japanese, no subtitles are offered. 🤬Why the fuck wouldn't they put in the extra effort and sub that shit?
Easy to use member's area
I like a site with a good amount of categories to browse, but Japan Lust only offers 15 categories. There's nothing but the basics here, but it works.
Sometimes porn sites have too many bells and whistles, and the whole setup is distracting and gives off a tacky vibe. That doesn't happen here. The interface is pretty bare-bones, but as long as they keep feeding me new videos to stream and download as often as I feel the urge, I'm golden.
Photosets and Bonus Sites that make my dick hard
A few sites I joined don't offer photo sets, and that bugs the piss out of me. Why? Pictures cost nothing to produce! Japan Lust does not have a photo gallery to accompany every video posted, but there are a lot of downloadable pictures that I am stoked to have in my virtual whack basket.
Access to their full network is a perk, but there are only two other sites at this time. One is Wonder Shemale. The second, Les Worship, is a really well-done, ladies-only tongue fucking hub. The knockouts there get me through some seriously needy nights. I'd consider the big lezbo library there to be a major boner bonus.
Final Words from Yours Truly
I don't follow a strict diet of Japanese porn, but when I want some waxed wasabi, I get my rocks off with a little help from the ladies at Japan Lust. I'm a total perv for uncensored JAV porn. Are you?
Frequent updates
Full-HD streaming and downloads
Photosets
Limited network
No English subtitles