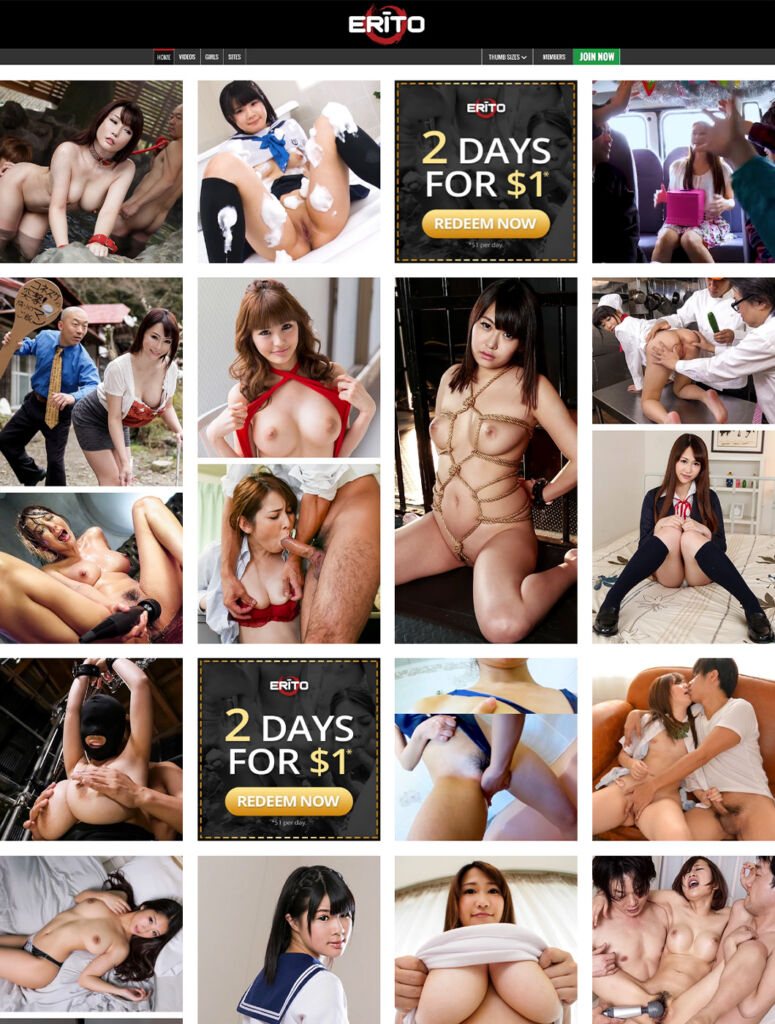 Who doesn't love Japanese porn? I definitely stroke my dick to it from time to time. However, sometimes it gets annoying not seeing how the pussies are being pounded or how the cocks are being sucked. Those pesky pixelation placements prevent my cum from oozing, and I'm sure I'm not the only one complaining about it. 
What's with their censoring anyway? You don't have to leave anything to the imagination. It's porn, for fuck's sake. It's a good thing I came across Erito. Erito doesn't fuck around. No pixelations, no censorship, no hassle. It's an authentic Japanese porn site that offers high-quality, uncensored premium porn. 
Fap to your heart's content with various models that will blow you away. Oh, it's also important to note that Erito holds all of your sexual fantasies. You'll never have to leave cloud nine anymore with all the premium Japanese porn coming your way. 
Elite Japanese porn like you've never seen before 🏆
Erito is the Japanese word for 'elite.' That's precisely the kind of porn you'll be getting with this glorious porn site. You can sit back and relax and be fed the cream of the crop. This Asian porn site serves just about anything you've been drooling for, and that's just the beginning. 
Launched in 2013, Erito made it a point only to serve high-quality HD porno performances containing the hottest adult stars from Japan. This premium Asian porn site delivers the most authentic Japanese porn. The scenes are filmed locally, with no subtitles and language translations so that you can get fully immersed in your fapping session. 
Say goodbye to squinting at 480p quality pornos because, in Erito, your eyes will have the time of their life. All of Erito's videos are filmed in HD. You'll only have to choose between 3K or 4K ultra HD. Erito did have lower-quality videos before, but they scrapped them to make way for exclusive, high-quality content only.
Categories that will fulfill your sexual fantasies 
Are we still thinking twice about Erito? I know, it all sounds too good to be true. However, here's something that'll shock you even more. When it comes to Japanese porn, we always think about the opposite of letting loose. Japanese porn always serves us ladylike moves, a shy kind of fucking, and we can't even see how the dick goes in and out of the pussy. 
But not with Erito. Erito, let's see how Asians fuck. As of writing, Erito holds over 295 exclusive porno performances. These are all neatly categorized and tagged with the usual keywords on a porn site. Are you thinking of hentai and cosplay? Oh, buddy, there's more to it than that. Here's a list of Erito's porn categories that'll surely fulfill your sexual fantasies:
Teen
Squirting
Sex toys
Office
Massage
Maid
Gangbang
Feet
Domination
Creampie
Cosplay
Bukkake 
Blowjob
Bondage
Big tits
Anal 
Didn't expect that? Yep, to be honest, me too. This porn site claims to be elite, so we might as well prepare ourselves for the wanking of a lifetime. 
First-class content for the highbrow boners 
As mentioned above, Erito takes pride in its 295 films. Why only a few hundred videos, you ask? Originally, Erito had a lot going on in their porno library. A while back, they had videos of low quality that'll make your head throb even before your cock does. They decided to diminish their library size to make way for bigger, better, and exclusive content for the members' ultimate enjoyment. 
If you go on Erito, you'll never come across 320p, 480p, and 720p video qualities. You might even forget that those qualities exist if you become a member. With the heavy site traffic they encounter daily, it's just the right thing to do. Erito thinks their members deserve only the cream of the crop, so that's what you'll be getting from them.
Each video is jam-packed with mind-blowing fucking that lasts for approximately 20 minutes each. You can choose whether you want the sex to be slow and steady or wet and wild. Whatever the situation is, you'll get the front-row seat to non-pixelated Japanese porn performances. 
What else is there in store for me?
To give you the ultimate wanking experience, Erito made it exceptionally easy for you to navigate the site. That way, you'll find the porno you've been drooling for and have a lone rangering session with it immediately. 
The site is both accessible on a mobile device and a personal computer. The one great thing I like about Erito is its video players. The handy 'timeline' tool on the streaming player allowed me to skip to a specific part to get away from all the bullshit if the porno is a bit slow-paced. Erito's streaming player allows picture-in-picture for the pervs who can't seem to fap to only one video. It also has an adjustable playback speed, manual quality settings, and keyboard shortcuts. 
Erito also has various sorting options, tags, and a basic search. But if you're meticulous, they have advanced filtering, categories, and tags. Just type in the words you want to see, and Erito will serve them on a silver platter. Do you want to stroke your dick for fetishes, cosplay, office sex, or bukkake? Here's a menagerie of videos under those categories right at the click of your finger.
Premium membership with non-premium prices 💰
Have you ever wondered what heaven looks like? Well, let me answer that question. Heaven looks like a collection of uncensored, authentic Japanese porn in ultra-high definition. It'll cost you a few dollars to enter heaven, but not enough to break the bank.
Erito thinks of their members and prospects so much that they want to make every dick-stroking session worth it. With the HD pornos and a few perks mentioned above, acquiring membership is a no-brainer decision. But if you're still thinking twice about it, Erito offers a two-day trial membership for only $1.00 a day. It'll give you a glimpse of what life is like on the brighter side. 
If you've already made up your mind, here are the membership prices you can choose from:
$19.99 per month (rebills at $29.99)
$49.99 for three months (rebills at $59.99)
$119.99 for twelve months (rebills at $119.99)
Erito accepts payments made from debit/credit cards, PayPal, gift card trade-ins, and various cryptocurrencies. It's high time you experience the creme de la creme of porn. Have all of the premium benefits, a consistently expanding porn library, and a roster of the hottest Japanese porn stars all at the tip of your finger. 
Your well-deserved elite fapping experience 
When it comes to finding the best porn in Japan, Erito has got to be unmatched. The ever-increasing exclusive library of authentic Japanese porn available at your disposal will make your dick happy. 
This premium, uncensored porn site will reveal what is hidden from the rest. Wanking your dick to Japanese porn will never be the same again with Erito, and that's something that you truly deserve. Why deprive yourself of a premium membership that'll give you the most elite fapping experience? Your well-earned big break is waiting for you on the other side of the premium.