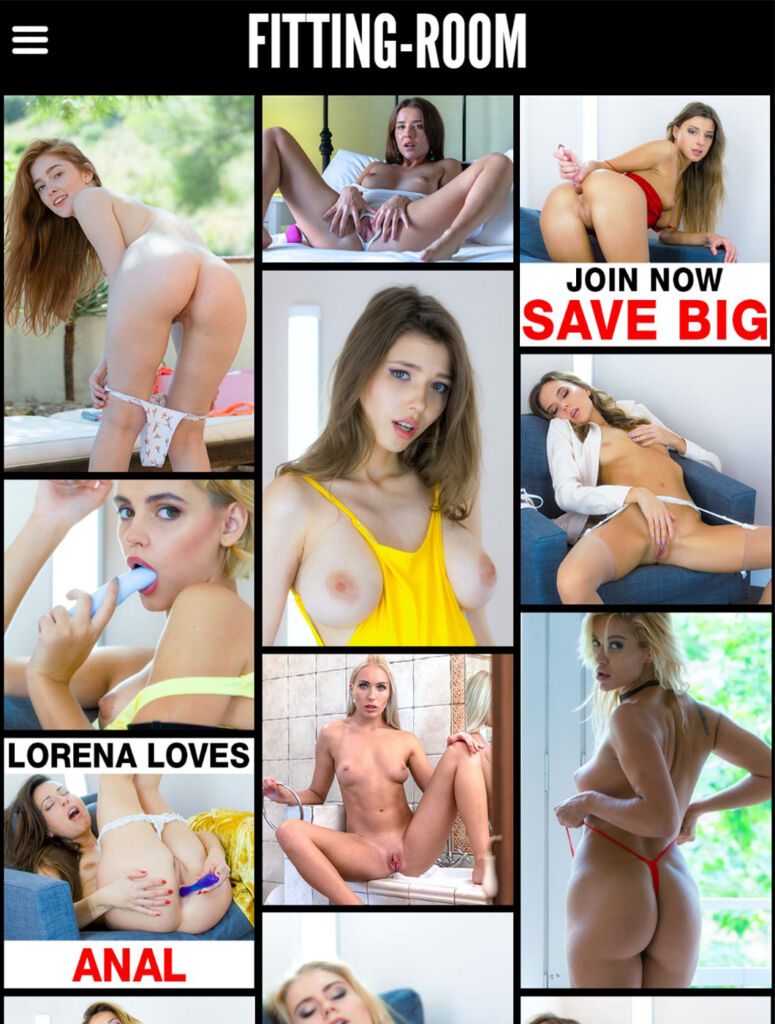 Be a fly on the wall in the fitting room. 🧐
Having wet dreams about becoming a voyeur? Voyeurism is one of the best fetishes and can be used anywhere, too! This time, let's put your eye-spying skills to good use. How about you become a fly on the wall in one of the best-fitting rooms you have ever seen? The room looks nice and neat, but wait until you see the ladies getting inside it! I'm pretty sure you'll have more than a good time with the Fitting Room. And this might be the best premium porn site you'll ever swipe on. 
Fitting Room is the only one that enhances your lingerie fetish and fulfills all your lingerie fantasies. More than that, you get to fill your eyes with all the hot, sexy, and horny girls coming your way. Catch Zaawaadi, Isabella De Laa, Elena Lux, Eyla Moore, Toni Maria, Goldie Locks, Natasha Chloe, Candy Luciani, Mischa Wren, and more getting cozy inside fitting rooms. You can even catch a glimpse at the kinds of lingerie they chose so that you can have some further ideas. *wink* Keep in mind that nothing will be left to your imagination at the Fitting Room. 
Get your lingerie fetishes addressed in the best way! 
Horny for lingerie? Don't worry, buddy; you are not alone. The Fitting Room is here to address your lingerie fetishes like no other. And believe me, you better get your list ready because you'll be ticking off each fetish fantasy one by one, one Fitting Room porno performance at a time. Get the satisfaction of having your favorite porn stars strip naked, trying on their choice of lingerie, and taking them off or sideways again for you to get a better view. You'll get the satisfaction of watching these ladies get naked and go to town in 4K ultra HD.
How do you address your lingerie and voyeur fantasies, anyway? Do you make use of boring old photos only and stroke your cock until you can stand to look at it anymore? Or do you desperately find hidden fitting room cameras in real life, only to be disappointed multiple times? At the Fitting Room, you don't have to go miles and miles anymore. Everything will be served to you on a shiny silver platter whenever you want to! Get the highest qualities of photos and videos right at your fingertips, and fap that throbbing cock to exclusive and explicit lingerie-fitting content and solo masturbations. Nothing gets better than this!
Exclusive content right at your fingertips. 
Alright, first things first: what kind of content are you looking for? Are you looking for videos or photos only? Should they be downloadable? Do you want Caucasians, Ebonies, Latinas, Asians, blondes, brunettes, redheads, and bald bitches? Do you want your babes in bikinis, laces, and thongs? Do you want them to rub and finger their pussies indoors, outdoors, in private properties, or mall fitting rooms? There are so many choices, right? It might confuse you, and you might even be reevaluating what you originally wanted. LOL. But don't worry! Whatever you want, whoever and wherever, the Fitting Room will have it already stored in their stash of exclusive content. For your eyes only, baby! 
Dive into the Fitting Room's exclusive series starring all your favorite porn stars and amateur faces. Whether they make your dick throb outdoors, indoors, or wherever they are, and whatever they are wearing makes your saliva drool (swimsuits, bikinis, thongs, laces, latex, etc.), they are all yours for the taking. You'll also be able to download each episode, or the whole series, if you want to, in 720p, 1080p, and 2160p quality. Now you don't have to wonder what hot girls do on vacation, on their beds, or in the fitting room trying on some new stuff. Yum! 
How much will the damage be? 🤑
Now here comes the dreaded question: how much will the damage be? With such high qualities of photos and videos, unlimited downloadable content, consistent updates, and hot fucking porn stars, the price has got to be off the roof. Well, the price hasn't even gotten near the roof. LOL. Feed your panty and thong fetishes with the healthiest content at only one of the most affordable prices you have ever seen. 
The Fitting Room accepts payments from SegPay, CCBill, PayPal, VISA, MasterCard, JCB, and Discover. Check out their membership prices below: 
$2.99 for the two-day trial 
$14.99 for 30 days with the 40% exclusive offer 
$24.99 for 30 days (non-recurring)
$99.99 for 365 days (non-recurring)
So, are you ready to swipe the card yet? *wink*
Get in the Fitting Room! 
Here's your chance to get in the Fitting Room before it gets too late. Join your favorite amateur and professional porn stars, close the door, and get to heaven! Swiping your card won't be hard to do once you see what's in store. *wink*