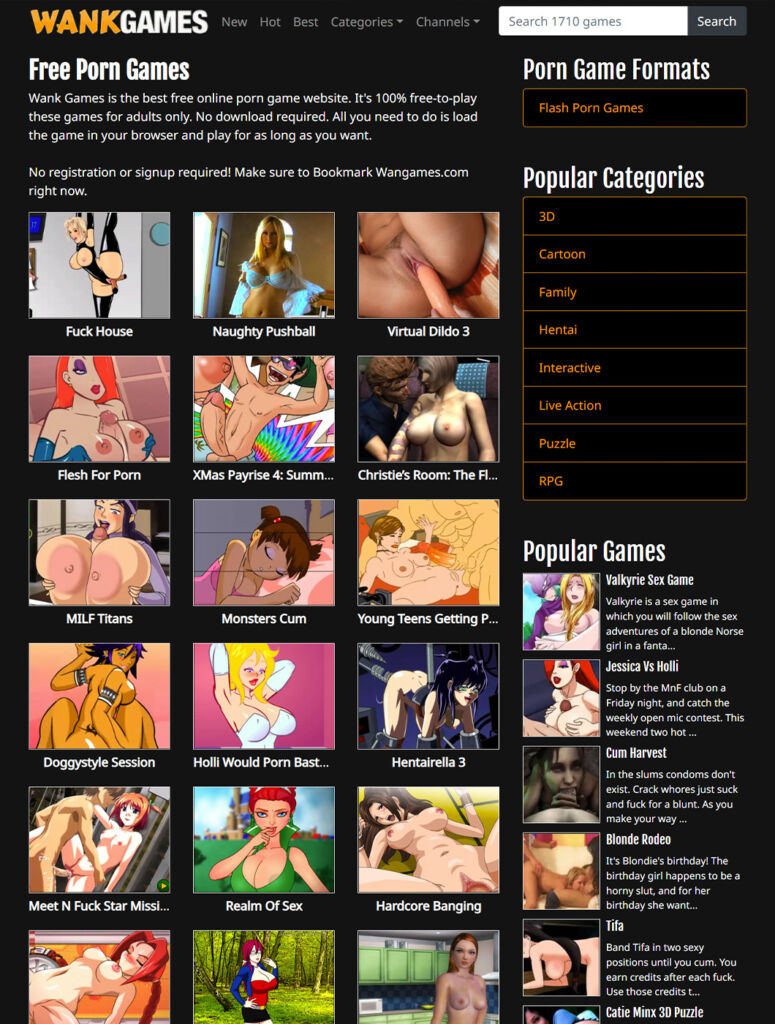 Tired of applying nude mods on your favorite characters to see them naked? Yeah, me too. Those days are long gone, but some games are just too stubborn. Sometimes, even 3D porn games are no match to the XXX games containing the character we all wanted to see naked.
Frankly, even the best fapping game available won't hit the spot anymore if we play it too frequently. But it's too expensive to buy another one again, and playing one with in-game expenses is equally wasteful and might turn my bank account upside down. It's not fun not being able to level up just because I don't want to shell out any money. 
But the good old days have a habit of coming back. That's why we still have Wank Games. It still has a pretty impressive amount of players, but I'll give it to them for preserving the variety and thrill that should always come hand in hand with explicit games online. Although the games are in no way downloadable, at the very least, they'll provide nostalgia and a fapping session that's one of a kind.
Free porn games at the tip of your finger 
As a porn game connoisseur, I have to say that coming across free porn games is not that easy. Those have been a rare occurrence recently, and that's probably because of the costs that come with generating an almost realistic game setup and characters, not to mention the features that come along with it. 
Stumbling upon Wank Games is pure bliss. This porn game site contains a collection of explicit games, old and new, ready to make just about everyone's dicks stand like a flagpole. Yes, you read that header right. Everything is free in Wank Games, and you don't even need to make an account to be able to start playing. No, there's no catch. No in-game fees, absolutely nothing. All you have to do is open your computer, go to WankGames.com, and you're good to go. 
As of writing, this porn game site contains 1710 free porn games that are neatly categorized, waiting for you to stroke the milkman while going on carnal adventures and leveling up as you fuck.  
Categories more than a porn site could hold 😎
One of the perks of going on a site like Wank Games is that you'll be served tons of categories that you can freely choose from instead of being confined to one boring ass game with pre-programmed characters, settings, and a boring old storyline. 
It's undeniable that all of the games available on Wank Games are pre-programmed, with fixed levels and characters. But, if you get bored this time, you can exit and find a new one. Easy-peasy, right? Here are the categories that are waiting for you in Wank Games:
3D
Action
Adventure 
Anal 
BDSM
Big tits
Blowjob 
Cartoon
Creampie 
Cumshot 
Facial 
Family 
Fetish
Furry 
Group sex 
Handjob 
Hardcore
Hentai 
Interactive
Lesbian
Live action 
Masturbation
MILF 
Puzzle 
RPG
School 
Sex 
Slave 
Stripping 
Teen 
Feel like the list is too long? You're in for a treat because there are still tons more you can choose from. The games are pretty versatile as well, judging from the categories. 
All your favorite cartoons are here getting down and dirty 😋
Remember the days when we all thought how hot Kim Possible was, and what if Gwen fucked Ben in Ben 10? Well, what do you know? Turns out we're all going to have a much-awaited reunion here at Wank Games. This time, everyone's ready to strip naked and fuck each other to bits, all while we sit back, watch, and fap the shit out of our cocks. 
Wank Games is the best free online porn game website for serving all our favorite characters without us having to imagine how they look naked or us applying mods to satisfy our sexual cravings. 
Maybe we'll learn a thing or two about fucking once we see our favorite Disney and Cartoon Network characters doing the deed. But remember, nothing's going to happen unless you command them to. Make sure to surpass every level until we all get to the climax. I'm sure our favorite characters are waiting for us to see them cum, too.
Fuck; Merde; Mierda; Neuken; Fanculo 🤓
Wank Games is one of the few porn game websites that offer explicit gaming in more than one language. I know how irritating it can be watching hentai without any subtitles on. What more if you're playing a game you can't even understand? Even the visuals won't help. 
Currently, Wank Games includes eleven languages everyone can choose from to achieve that ultimate explicit gaming experience. From English, French, Spanish, Polish, and even some harder Asian languages like Japanese and Chinese, Wank Games has got them all. Now you can say fuck in eleven languages. 
For all my aspiring bilingual buddies out there, here's a way to help you learn more about the language you're studying. *wink*
A porn gaming library that grows by the day
One thing that bores me out about porn sites and XXX game sites is that their content is as limited as the girls you can fuck. The first time that I've seen a porn library growing so evidently is PornHub's.
As they say, there's a first for everything. But in Wank Games' case, it's probably the only free porn game site that updates its stash daily. That's right. That means that the categories will broaden as fast as you can even imagine, and the number of games on the site will overwhelm you before it makes you cum. 
It's the greatest deal you'll ever come across. A growing XXX games collection, a shit ton of categories, the games and the site itself available in several languages, all your favorite cartoon characters stripping and fucking in one place, 3D, 2D, and even hyperrealistic game visuals — what more can you possibly ask for? To top all of that, Wank Games is free. Don't you dare miss out on this one because it's a deal you'll never find anywhere else.