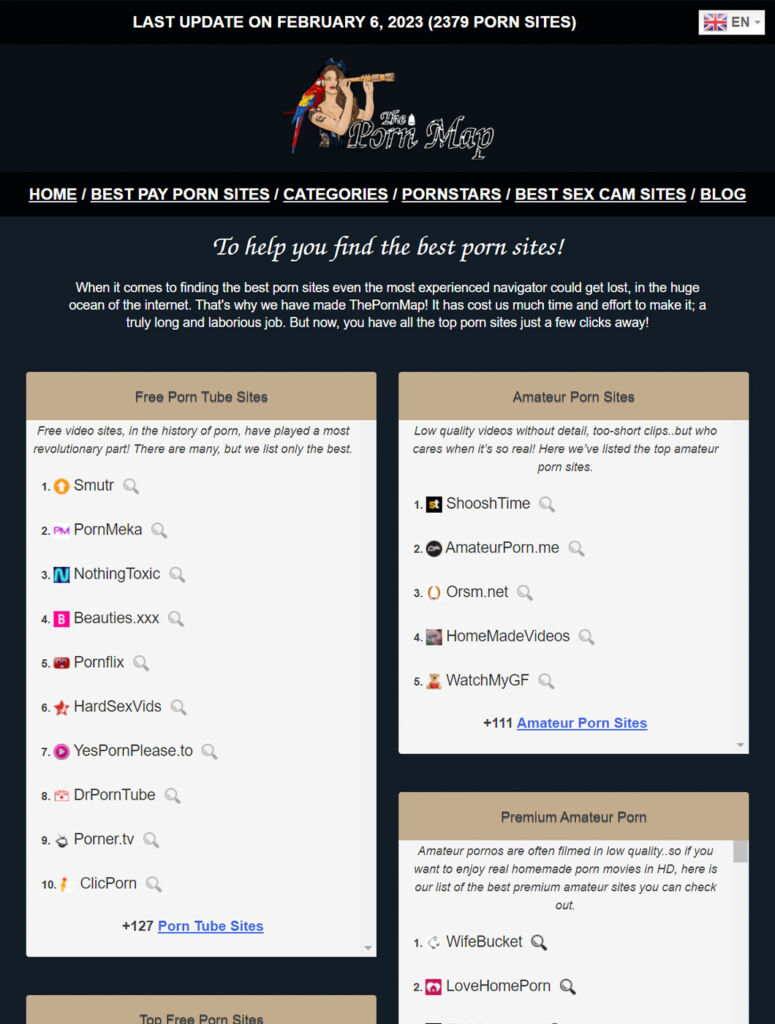 Are you ready to travel the world? 🗺️
Most of us can't be bothered to travel the world. I mean, it's a nice thought. But do we have all the time and money in the world to do that? Pensions won't even come until you're bedridden already. LOL. Alright, kidding aside, here's another way to travel the world all in the comfort of your home. However, you won't see the seven wonders of whatever. Move along if you're reading this only for scenic views. It's more like seven cocks and pussies banging each other. Yep, the world we will talk about is the porn industry. Do you have any idea how fucking vast it is?
There are tons of porn sites worldwide, yet you're there, sitting in front of a computer, automatically going to that one free porn tube you've been fapping to since you discovered how to. How sad is your life? I'm pretty sure you're more than ready to take it up a notch with The Porn Map. And no, it's not some map you can purchase online, although that would make it a thousand times better. LOL. The Porn Map is one of those websites that contain a shit ton of porn sites for you to discover. And yes, I know how hard it is to choose from those, so let me help you along the way. *wink*
Get your hands on the most coveted map there is! 
As I said, there are a shit ton of websites that are similar to The Porn Map. And by similar, I mean the contents, too. I mean, what else should they put there aside from porn sites? LOL. But kidding aside, The Porn Map is one of the most coveted websites with a collection of porn sites. Not only is it one of the most organized, but it's a little eye-catching, too. With its pirate-y design, complete with a hot girl with a parrot on her shoulder, you'll frequent this website more than the others. And mind you, The Porn Map does have a sense of adventure with it, you know, with its calligraphic font styles and all that jazz. 
One of the great things about The Porn Map is the team behind it. Do you know why? Because most websites that have a collection of porn sites beyond your imagination don't bother to update their list and categories. Fair enough, because most people don't go through all of the sections a lot, websites like The Porn Map make it easier for people to find their kinks, cravings, wet dreams, and whatnot. And even though you don't scroll a lot on the site, The Porn Map doesn't fucking care. As of writing, the team behind this amazing website just updated their stash. That means, at the moment, you have 2386 porn sites at your disposal. 
Captain, have you already figured out where you're going? 🧐
Okay, captain. Now that you know that you have 2386 porn sites on the map, shouldn't you group them by however they should be grouped? You know, to make it easier for us when it's time to navigate. Yes, if you're reading this, I'm talking to you. You're the captain now. Whoever's navigating on the site is the captain, if you know what I mean. So, have you figured out where you're going to go? Because having a shit ton of these porn sites doesn't mean you need to go through each one. And having all of those under your finger doesn't mean you already know what porn site you want to visit. 
Right, so how do we fix your dilemma, captain? Can't just say "aye, aye" to it, can you? LOL. Alright, kidding aside, The Porn Map already has all your questions answered. All you will need to do is to scroll down, you know. The Porn Map categorized all 2386 porn sites into 69 mouthwatering categories. The number fits quite well. LOL. So, captain, if you don't know where you'll fap when you sit in front of your computer, scroll up and down until your mind or throbbing cock decides for you. It's pretty easy. Well, that's what The Porn Map wants you to feel — nothing but pleasure! 
One-click goodness is all there is.
Have you ever visited a porn directory site, and it required you to click a thousand times before getting to what you wanted to wank to? It's a fucking hassle. Well, it's a little disappointing, but all websites were like that even decades ago. To navigate, hover your mouse and click left or right until you get what you want. Quite literally, it's the easiest thing you are ever going to do before unzipping your pants. But then again, The Porn Map wants you to feel nothing but pleasure. So yet again, they made navigating a thousand times easier for you. 
With The Porn Map, if you keep it in your bookmarks, all you will need to do is click one letter, enter, and scroll around the porn directory site. Now, unless you want to go elsewhere, you don't have to click on anything anymore unless it's a porn site redirection. Pretty fucking neat. However, even though everything's laid out neatly on The Porn Map's homepage already, they still have a header menu option for you to choose from. The options menu only contains the home button, best pay porn sites, categories, porn stars, best sex cam sites, and the blog. And yes, that means you can have more choices and categories if you click on one of those. Yum! 
The map that's always updated. Yep, no sugarcoating on that. 
The Porn Map's last update was done only two fucking days ago. That's how meticulous they are. I mean, the team behind this porn directory site must be one of the most meticulous. As of writing, if you haven't read it yet, they have 2386 porn sites in their collection. That means a few days, weeks, months, and years from now; you'll probably have a million porn sites in The Porn Map. If you're looking for a porn directory that updates its stash more than regularly, The Porn Map is the only way to go. And yep, there is absolutely no sugarcoating on that. You can go on the site and see it for yourself.
Now, the question is: are you prepared to have millions of porn sites and billions of porno performances right at the tip of your finger? The answer has got to be yes! 
Is there a "docking" fee or something? Or will "aye, aye, captain" work? 
Let's get straight to the point: The Porn Map is fucking free. You don't need to get your wallets or credit cards ready. All you'll have to do is have some working gadget and a wifi connection to navigate it. 
However, some, if not most, of the porn sites in The Porn Map are not free. Don't worry; you'll find out if you visit one. Regarding your decision-making abilities, we don't have a say in that. Good luck, captain! And may you always have smooth waters. *wink*
| | |
| --- | --- |
| Type of website: | |
| Type of content: | Porn Videos |
| Main Category: | Porn Lists |