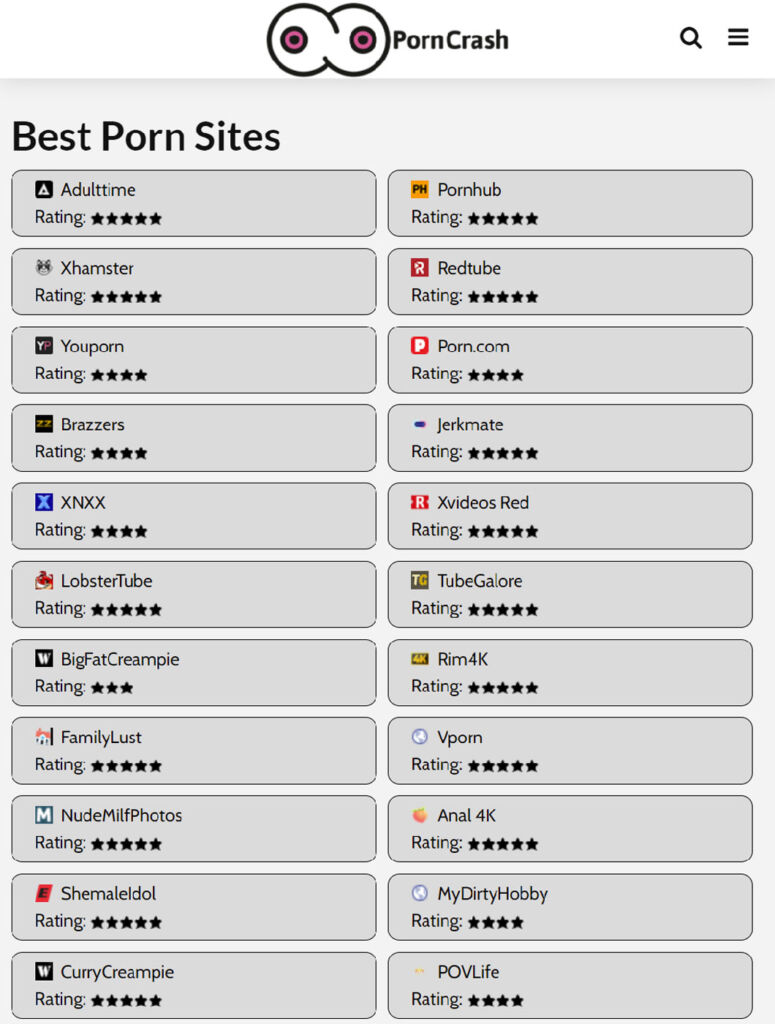 PornCrash is as simple as it gets. No fuss, absolutely no ads, and it even comes with seven languages you can choose from, if English isn't your thing. It's pleasing and cool to the eyes and it's as straightforward as your dick when it's time to fuck. What exactly is it, you ask? Well, let's have a walk through.
Like a Ball Pit, But Better
You know how dogs go crazy at the sight of a ball pit? Well, PornCrash is exactly like that, but for adults. For starters, PornCrash has a really smooth and easy main page. I mean, there's almost no options available for you to navigate. I don't know if it's good, but I mean, it's nice for me. It's a light pink website, with black font, and an easy boobs logo beside the famous 'PornCrash' name. Contrary to its name, there's no crashing going to happen. Like I said, this website is as smooth as a baby's butt.
PornCrash is a compilation of all the porn sites in the world, or maybe in the universe if you're into some alien kinky stuff. If you can't find the porn site you love, you can simply go to the bottom of the page, click the 'webmasters' button, and fill up the application form for your favorite porn site to be included in an incredibly long list of mindblowing websites.
The best porn sites are already tidy in line on the main page, and they're just basically waiting for you to choose them for your fapping session. To help you choose the best one for you, PornCrash already rated the porn sites from a hefty and trusty 5-stars, to a beginner (or maybe just a flop) 1-star. It'll set the mood for you right away about which one's hot and which one's not.
All the way at the bottom of the page just right above the 'webmasters' button is the 'categories' button. It's the same as that one button you'll see on the upper right side which says 'all categories'. I think it's some kind of bullshit, having two different buttons that lead to the same page. But anyway, more about that, you'll find every single porn category in PornCrash. From bukkake to pegging, you name it and PornCrash will serve it to you on a silver platter instantly. This is my favorite part because no matter how vague some categories are like 'anal', you'll be surprised about the sites that PornCrash includes in it.
If it's just your regular fapping session or some extra special, hot and spicy wanking, I reckon PornCrash has everything you'll be looking for, and you better be prepared to be served some more, because there absolutely will be.
Conveniently, for those who like to be more specific, there's a search button on the upper right for your very particular kinks or whatnot. PornCrash is a porn menu that's absolutely free, hassle-free, and has all the fucking variety you've been craving for. Guess you could say it's a porn pit. Dive in and get loose with all this pleasure.
| | |
| --- | --- |
| Type of website: | |
| Type of content: | Porn Videos |
| Main Category: | Porn Lists |
Simple, Easy to navigate porn list
Available in 12 languages