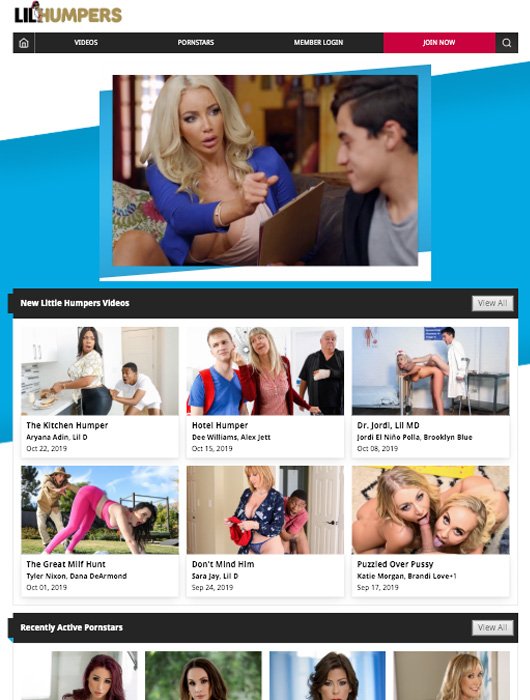 Every teenage boy has probably fantasized about fucking women more than twice their age (or even height). Remember when we were at the height of puberty? Everything seemed to be humpable. From sofas, cushions, pillows, your little sister's dolls – whatever you can put between your thighs to mimic foreplay or even fucking. Those were the good old times. We never really grew out of it, I think. We just learned how to fap better, but ultimately, the fantasy is still there. 
The porn industry often shows guys with humongous cocks stuffing them inside petite girls' pussies like she's a sex doll or something. Sure, it's jaw-dropping; it gets the blood going to the right places. But it's high time everyone gets a glimpse of a teenage boy's sexual cravings and fantasies. Let's turn the tables around and have pubescent boys with throbbing cocks be ridden by hot MILFs with big tits that we think only exist in our wet dreams. 
This reality-based porn site shows us the good old times of being a constantly horned-up teenager. Only this time, the boys get laid, and we see our fantasies materialize one by one in every porno scenario that takes place. 
Take a trip down memory lane 😉
I'm not going to lie; watching Lil Humpers' videos feels like taking a trip down memory lane. The scenes are exactly what played out in my head during my younger years, and if I were as brave as the porn stars in the film, I'd probably fucked several MILFs already by the time I got out of high school. Of course, we all know that's impossible, except for the chosen ones. 
Lil Humpers portrays exactly what we wished to happen before. Each wet dream gets materialized, and every porno scenario feels familiar. But of course, there will always be a twist. Lil Humpers like to keep it interesting by mixing in comedic and thrilling scenes that'll get you laughing and keep you on the edge of your seat even while the cum oozes out of your dick. These guys full of hormones fuck everything in sight, and nothing's stopping them from doing so. 
Lil Humpers lets us live out our secret sexual desires, albeit a little late. Big names in the porn industry such as Sara Jay, Katie Morgan, Monique Alexander, and Ryan Keely are the MILFs who reprimand naughty teenage boys in each film. Each scenario plays out smoothly, from basic scenes transitioning to drool-worthy fucking. Every naughty boy gets his dose of a sloppy blowjob, reverse cowgirl, or any fucking position you can think of. 
The scenes are a bit cheesy, but hey, what's not cheesy during our teenage years, am I right? That's what makes watching these videos so much fun. But don't get me wrong, Lil Humpers will give you the fapping of a lifetime in each porno performance. Wank your way through memory lane and tick all the longstanding cravings in your list of sexual fantasies.
Relive your horned-up teenage years, one porno at a time 
As of writing, Lil Humpers only has 49 porno performances in its stash that runs for around 25 minutes each. But don't worry, no scene is redundant. There's a tutoring session, a doctor's appointment, teens wanting to get into a strip club – all of the previous experiences. Even if you did fap through every video they have, Lil Humpers provides updates approximately once a week. Each porno comes in 1080p HD quality, but you can also stream it in 720p, 540p, and 360p. Remember, Lil Humpers' content is exclusive for members only, so if you're looking forward to accessing it via free sites, you will be disappointed. 
Of course, Lil Humpers know we're too busy now to sit and wank throughout the day. That's why they have 49 photo galleries containing roughly 150 photos each. Unfortunately, there are no zip files to download. But you can download the photos individually or run them in slideshows if you have the time. Even if you're on the go, you can still live out your teenage fantasies one screencap at a time. 
Feel free to relive your teenage years in every video you encounter. Lil Humpers' goal, after all, is to make your teenage wet dreams come true. However, the only drawback you'll ever encounter here is that the porno performances cannot be downloaded. However, there are many ways that Lil Humpers provide to make up for that simple drawback. 
The cost of reliving your teenage fantasies 💰
If you've been floating on cloud nine while reading this review, you must know that everything good comes at a price. It's a good thing Lil Humpers' prices aren't so hefty, so you can freely swipe that credit card of yours. 
I know some of you are still hesitating whether it's worth it to go down the sexual memory lane. Test the waters by getting Lil Humpers' $1.00 streaming-only limited access for two days. Remember to cancel that after it's over because it will recur for $34.99 per month unless you're ready to commit after seeing what it's like. 
If you are that strong-willed dude who takes his wanking sessions seriously, here are the membership plans you can choose from:
$29.99 for one month 
$49.99 for three months 
$99.99 for one year
Lil Humpers' membership plans are recurring, and they currently accept payments from Discover, JCB, MasterCard, and Visa. Go ahead and give yourself the chance to redeem your teenage horned-up years. Not every day do you come across a site like Lil Humpers, who knows exactly what your unmet cravings are.
The porn you deserve and more 
Lil Humpers ensures a great fapping experience with extra features that make your navigation as easy as 1-2-3. Sorting options, categories, tags, and basic search engines all help to lead you to the porn you've been looking for since you were still a teen. Not only that, once you become a premium member, you can rate, favorite, and add porn films to your watch later list to have something to look forward to at the end of a long tiring day. 
But reliving your horned-up teenage years isn't enough to satisfy your sexual cravings. We don't eat the same meal every day, don't we? That's why a premium membership with Lil Humpers instantly gains you full access to three bonus sites, such as
MILFs Like It Big
Mommy Got Boobs
Moms in Control
Go through your teenage fantasies and satisfy your momma's cravings all in one membership. You deserve to have the best sessions with your milkman. Who would pass on full HD, ad-free porno? Watch as this premium porn site gives you more than your money's worth, one porno at a time.