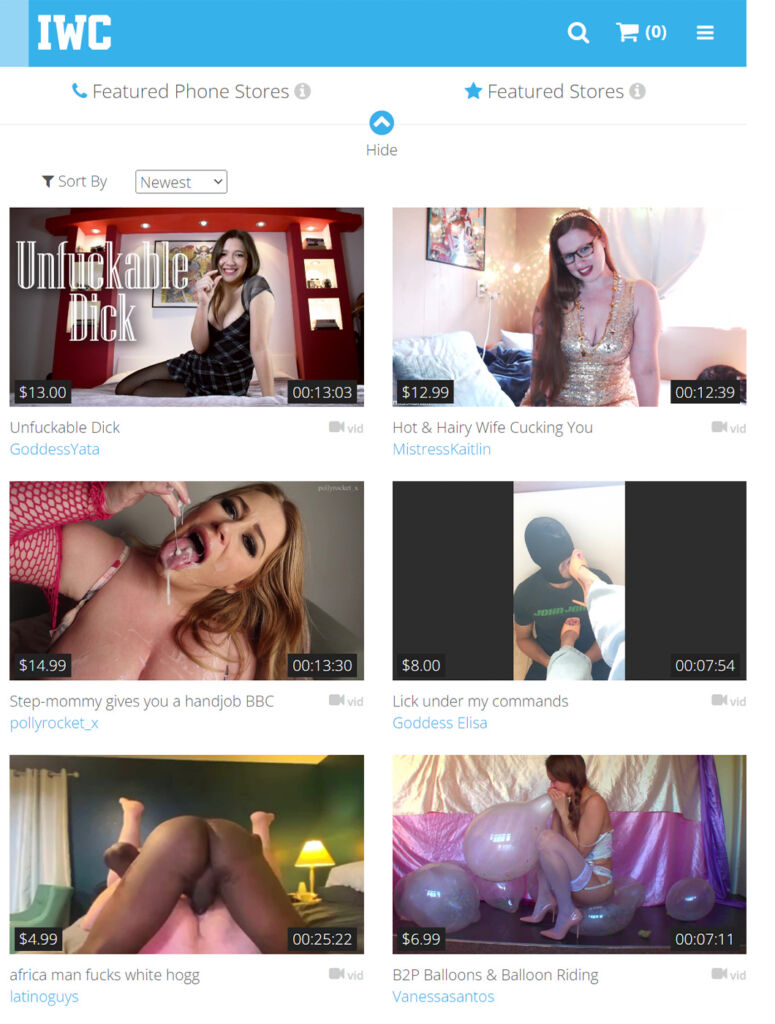 Want customized porn? Get on iWantClips! 🎥
Is mainstream porn getting a little bit boring for you? Yeah, I think we can all relate to that. After years and years, and possibly even decades of stroking our cocks to scripted moans and fucking positions, we've all finally come to our senses. Nope, we did not realize that porn is bad. We just thought it got boring along the way. Is it a bad thing? Not. That means we needed to venture out into the unknown part of the explicit side of the internet. But honestly, though, porn is virtually everywhere. On Facebook, Twitter, Instagram, and most especially TikTok, you can find censored porn that will make you drool but nothing more. 
Alright, enough of the chitchat. Here's something that will not only give you your much-needed porn pause but also give you something more personalized. Don't get your cock all hard and throbbing just yet! LOL. We're not even there yet. Welcome to iWantClips! This is the site that will quite literally make all your porno dreams come true. Make sure you have your list of sexual fantasies ready because we will check it all individually. Am I exaggerating? Am I promising too much? Well, I wish I was, but I'm not. Read on to find out more. *wink*
iWantClips is one of the leading providers of porno clips. The explicit clips in question are made by porn stars, amateurs, and horned-up ladies on their terms. But sometimes on your terms, too. What do I mean by that? iWantClips provides pre-made and customized clips, depending on the customer's preferences. You can buy their clips from the get-go or contact these hot and gorgeous ladies to make one for you on your terms at the right price. Trust me; these clips are far from the scripted ones you've got used to seeing. But don't drool just yet! There's more to iWantClips than just that. Yum! 
There's more to iWantClips than meets the eye. 
Do you ever get on a website and see tons of choices for you to choose from? That's what we like about certain kinds of sites, am I right? iWantClips is exactly like that. For starters, so you don't get confused, iWantClips is the main site, the provider of pre-made drool-worthy porno clips you can buy from the makers themselves. But as I said, there's more to it than meets the eye. Don't stuff your hedonistic self just yet, because there's still more to devour. I hope there's still room for more mind-blowing content in that head of yours! LOL. 
iWantClips is also home to iWantCustomClips and iWantPhone. Let's break all of these down to something easier to digest. Check everything out below: 
iWantClips – home to pre-made explicit clips, audio, photos, and pay-to-view messages and documents you'll be able to unlock by shelling out a few dollars. 
iWantCustomClips – it's pretty self-explanatory. iWantCustomClips is where all your fucking fantasies will come true, one customized clip at a time. Just don't forget to wake up from daydreaming and start transacting with the model of your dreams! 
iWantPhone – the phone sex platform and counterpart of iWantClips. If watching pre-made or custom clips and listening to cum-oozing pre-made audio clips isn't for you, a few dollars will make your dream come true. Have your most-awaited phone patch with the model or artist of your choice anytime you want. 
There are over 30,000 models for you to choose from at iWantClips, iWantCustomClips, and iWantPhone. You won't even have any trouble deciding because, on iWantClips, some of the models' clips are displayed on the homepage already, ready for you to preview, click on, and purchase. The prices vary from one model to another and the kind of clip you want to see or demand. Make sure your cards and wallets are ready because those will come in handy! 
What does the jury say? 👨‍⚖️
Thank the porn makers for thinking of iWantClips, iWantCustomClips, and iWantPhone! When you think your fapping days have come to a dead end, the explicit side of the internet just keeps on giving more. And what does the jury say? iWantClips gets the five-star rating every site has been wanting to covet. And they did get it ever so easily. I'm pretty sure you will have the time of your life even by browsing the homepage and looking at clips to purchase in the future or on the spot. 
When it comes to pricing, the majority of clips are pretty affordable. However, it truly depends on the models and artists. But don't worry; unlike scripted porno performances and rehearsed moans, iWantClips provide something more authentic that your throbbing dick will crave more frequently. 
What are you waiting for? Head on to iWantClips.com before your favorite models' clips get sold out! 
| | |
| --- | --- |
| Type of website: | Premium Porn Site |
| Type of content: | Porn Videos |
| Main Category: | Fetish Porn Sites |