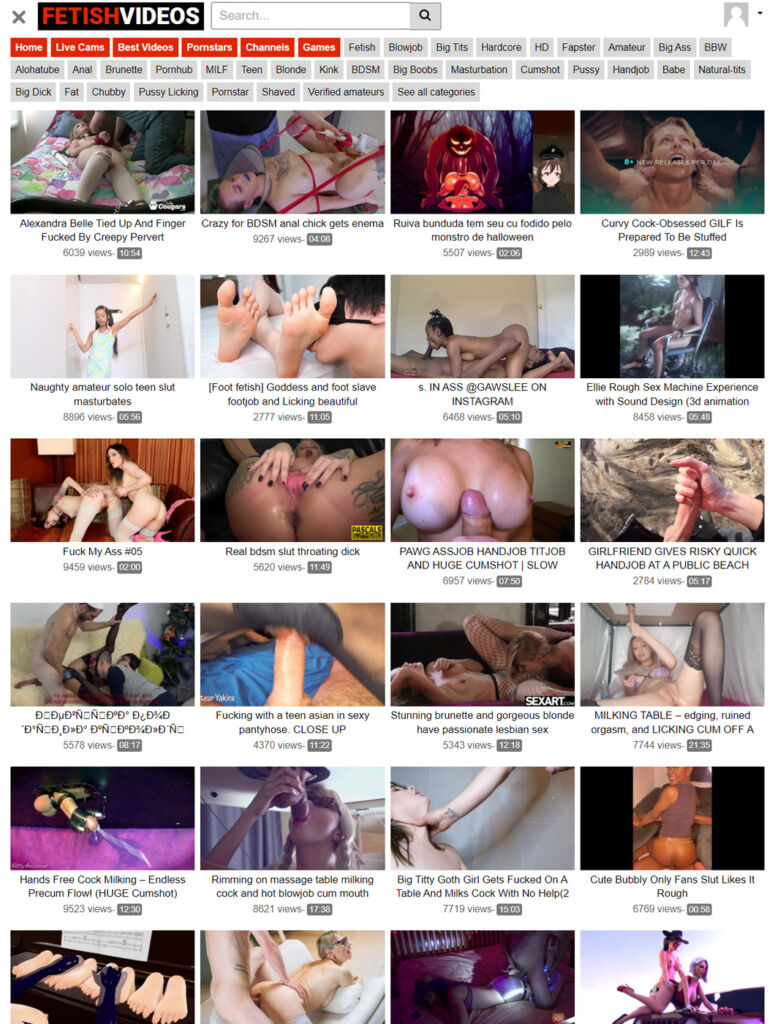 Who doesn't love free stuff? Everyone does, but there's always a catch. Let Fetish Screen introduce you to a non-stop pleasurable experience that will only keep coming. You don't even have to do anything, at all! Just sit back, relax, and delve into this porno paradise where you can find absolutely anything that goes into your horny fucking mind. Love foot fetishes? We got it! How about golden showers, femdom, gaping, and so much more? Yep, welcome to Fetish Screen!
Drown in the multitude of choices that you can enjoy absolutely free. Check out thousands upon thousands of very specific fetishes that you can fap on to. Fetish Screen provides even the smallest of fetishes, you'll be surprised! Get a hold of some drool-worthy fetishes such as shoes, glasses, lingerie, ballons, public nudity, BBW, and more! If you think that's the end of the list, well, get ready for some more. Got a liking for cars, clowns, elevators, classrooms, dungeons, femdom, pissing, and gaping? You name it, and Fetish Screen will surely have it.
Perks and Benefits
Aside from it being completely, absolutely, and 100% free, Fetish Screen also updates its stash with more than a hundred fetish videos daily. Completely enjoy an unlimited supply of porno made exactly for your specific liking. Trust me, with thousands of fetish vids and amateur porn, you will never run out. Fetish Screen also does not only provide vids for fetishes, it has a multitude of other porno content, too. Enjoy a good wanking and banging as Fetish Screen made it exceptionally easy for you to find your liking with its tags and categories displayed upfront. Whether you'd like good amateur porn, solo masturbation, POV, cartoon, pussy licking, MILF, rough sex, or more, you'll be able to find it easily. Get what you want with zero costs and no other yapping.
What's the Catch? 👀
Nice of you to ask. Gain access to Fetish Screen's perks and benefits by simply going to the website. Oh man, I can see it on your face now. Do you have to sign up? Nope. Just type in FetishScreen.com and you're good to go. You bet there'll be hidden charges to continue watching, right? NOPE. Enjoy millions of fetishes and other pornographic content at your disposal, completely for free. You don't have to shell a single dime or go through the hassle of typing in your details to watch someone get fucked. Enjoy zero spyware, adware, trojan, etc. There are no memberships either. This is really more than what you've asked for, and then some.
Fetish Screen made it a mission to provide you with thousands of videos and performances tailored to your very specific liking with ultra-easy access. Navigate around this site with all the tabs and porno categories provided to you. Every single click on Fetish Screen will only lead you to more and more pleasure. Welcome to this fetish treasure chest. Have it anytime at your disposal with no dime to shell out. You'll need a dick to fap with, though.
Extensive collection of Fetish Porn
100% Free to Watch
Barely any ads
Not enough full-length videos