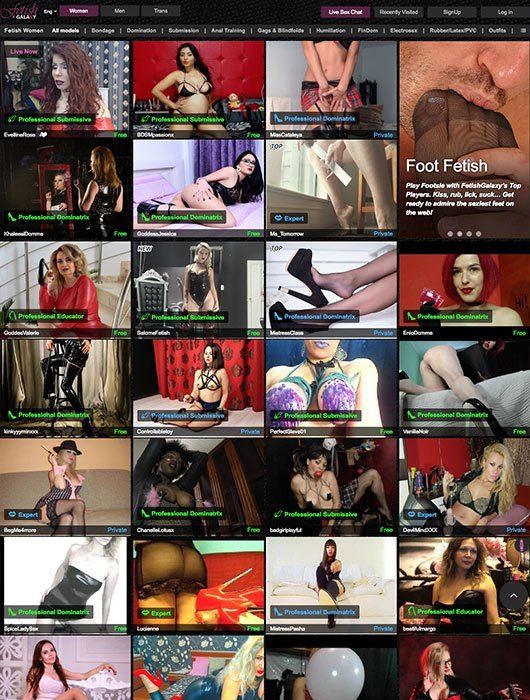 Honestly, when I first landed on the homepage of fetishgalaxy.com, I can't really say that I was too thrilled with what was laid before me. I knew that I was checking out a cam site, however, when I saw the giant thumbnails for a couple of models, I immediately wanted to bail, since the experience didn't seem too promising. Do you think my expectations were met during my browsing session?
Registering is not required, but it is really in your face
Naturally, I decided to click on one of the cams on the homepage, to see if I can even access cams for free, and the moment I did that, I was asked to register without the model's profile loading at all.
I was feeling a bit too lazy to register at that time, so I decided to try and enter a couple of different live shows.
After clicking on a couple of profiles, I finally entered the model's room. I decided to go back to the homepage and attempt to enter the model's room that I initially wanted, and look at that, it let me in.
However, I went back once again, and when I wanted to join a different live show once again, it asked me to register, and it continued asking me for a couple of clicks until it randomly let me in again.
I am not sure how this works, it is a weird system, but for the sake of the review, I forced my lazy ass to register. Registering was extremely easy, and I didn't even have to confirm by e-mail.
Post registering is just as annoying
After registering, I didn't really get the registration pop-up, however, this time I was getting a pop-up to purchase credits every time I wanted to enter a room.
While that honestly does make sense, as you might want to tip models that you visit, it still feels really fucking garbage that you don't even get to see what the site offers before you are asked to spend some cash.
The design is just bad
While I was struggling with the pop-ups every time I wanted to enter a room, the more and more I thought to myself "Wow, this site's design is quite garbage". That is because not only that the thumbnails are fucking big, but also the fact that the thumbnails are actually preset pictures, instead of screenshots of live shows like other modern cam sites have them.
Sure, some of the thumbnails are quite nice, but that makes things worse, because once you hover your mouse over the thumbnail, it plays the live session, and sometimes it ends up as a very big disappointment.
For example, I saw a hot blonde babe in black stockings and a red dress, but when I hovered over, she was wearing casual clothes, and she had blue fucking hair. Not to mention that some live sessions won't even start playing. It is so bad that I can't even explain it, you just have to see it for yourself, then again, I advise that you don't.
Live shows are decent
When it comes to the rooms, things are actually pretty good looking, however, it was quite a pain in the ass for me to get there due to the dumb pop-ups. Sure, I could have bought some credits and removed them, but who knows what the fuck the next pop-up would be, so fuck that shit.
The profiles of models are quite nice, but it took me a while for them to find how to access that, as there was a small "i" button that I had to click before I was offered to view a profile in order to see what the model offers.
I don't know guys, the more I am browsing through this site, it just feels that I am getting deeper and deeper into the rabbit hole, and definitely not in a good way.
Low number of models
Upon returning to the main page, I decided to check just how many models this site has, and to no surprise at all, the number was only about 60 models online at the time, and for a site that allows models from all over the world, it was quite disappointing.
Suggested only for hardcore fetish lovers
When it comes to cam sites, this was probably one of the least satisfying experiences for me, while all of the cams on fetishgalaxy.com are dedicated to some kind of fetish, I honestly think that you can have more fun somewhere else.
| | |
| --- | --- |
| Type of website: | Cam Site |
| Type of content: | Live cams |
| Main Category: | Fetish Cams |
| Affiliate Program: | Pussycash |
Only fetish cams
Good diversity in models
Pop-ups
Bad design
Low number of models