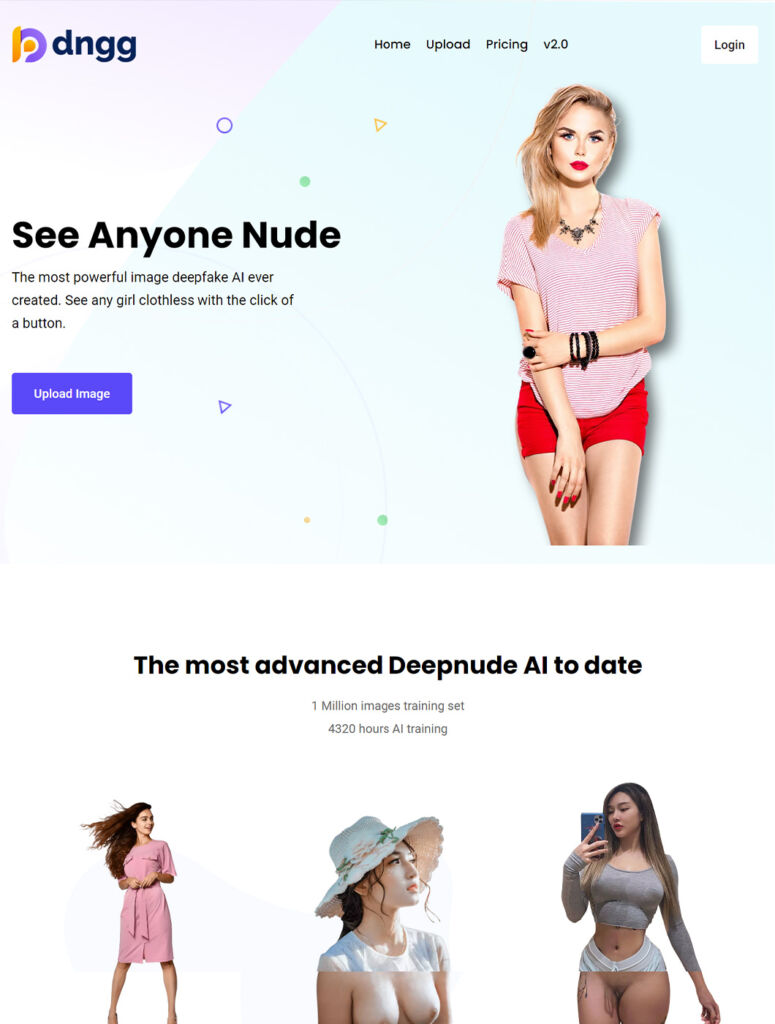 Deep Nude — another deep fake newcomer 🤓
Are we all familiar with deep fake content? What are you doing with your fapping lives if some of you aren't? Deepfake is all over free and paid porn tubes, although sometimes the qualities of the porno performances are straight shit. But you know it'll do, right? Especially when you know that the celebrities involved in deep fake triple X films do not have any leaked scandal or anything, deep fake will do more good than anything else. LOL. I assume you understand deep fake now. Do you? Now that you do, let's meet another deep fake imagery newcomer. I'm pretty sure you'll appreciate this site's presence. *wink*
Deep Nude or DeepNude.cc is another website working with AI to give you the most drool-worthy photos you have ever seen. And yes, emphasize the "you" and "your" part because you will be uploading the photos you want to stroke your throbbing cocks too. It doesn't matter if it's your neighbor, favorite hot celebrity, or that high school crush who hasn't even looked at you in decades. Whether you're a creep or not, you can make your dreams come true. So make sure you have your 5 images ready! Because AI will do its best for you. 
A little shaky here and there, but weren't we all?
AI isn't in its perfect form yet, so you'll have to have a few reservations here and there. But it doesn't mean that Deep Nude won't be able to give in to your carnal cravings. One thing I like about Deep Nude is its ability to materialize what and who I want to wank. Deep Nude will give me a good nude photo when I upload the face I want to see naked. Best believe you'll have that same experience, too. And the moment you fap to someone you've fantasized about for decades, it's a game changer. No porn star or porno film will ever top that experience.
However, as I said, AI isn't perfect yet. Sometimes the image Deep Nude will give you might look like the most beautiful face with an alien body. You know, lopsided tits, a bushy pussy that's almost as blurry as your eyes without specs, and a few more imperfections. But at least Deep Nude isn't doing that all of the time. The only real way to find out is to upload a photo and see for yourself. But then again, if the photo came out nothing as you'd expected, you'll be wasting one image from the 5-image allotment Deep Nude gave you. But again, we'll never know if we never try.
You won't see anything that's not in your lane here. 
There are a shit ton of AI-powered websites that now allow you to make a shit ton of images that are extremely and exactly tailored according to your liking. Some do not have limits, and some share the creations of previous and present users, allowing you to stroke your cock to possibly an almost unlimited amount of AI-generated images. So, what am I saying here? Deep Nude seems to be a little private and personal. Therefore, you won't see anything other than what's happening in your lane. Is that a bad thing? Not at all! But for some, it might be. Yikes. 
If the annoying Deep Nude "fake" watermarks don't bother you, then good for you. It doesn't bother my ultra-horny head if you ask me. However, one thing that irks and possibly disappoints me is that I can only generate 5 images. Sure, you can fap a lot with 5 images. But after a while, it might get boring, and you might want to take a peek into others' fucking fantasies as well. Unfortunately, that's not how it goes in Deep Nude. Yeah, I know, it's pretty saddening. But if you want to be more adventurous and hold a lot of pictures (wink), Deep Nude allows you to upgrade to their premium services, which will allow you to make more. 
Don't ask me for categories! With Deep Nude, everything's up to you. 
So, have you organized all the photos you will put into Deep Nude yet? Because if you're looking for categories, you won't find anything here unless you've organized the photos yourself. So, no, there are no Asians, Latinas, Americans here, or whatever you're looking for. It all depends on what kinds of photos you hold. And yes, it doesn't matter if you put your hot professor's photo into Deep Nude to see how she will look naked. Nobody cares, but I would like to glimpse that if I can. LOL.
Is Deep Nude worth a shot? 🤔
With 5 images, Deep Nude is pretty restricting. But it is worth a shot, especially if you just want to try looking into the pretty world of AI-generated nude photos containing familiar faces, which gives you hard fucking boners.
If you're willing to shell out $9.99 for one week of unlimited image uploading and downloading with no ads or $19.99 for a month of the same services, sure, why not? Deep Nude is one good site to go to. 
But really, there's a handful of the same websites out there that will not give you lopsided tits or a blurry pussy. So, there's that, too.
| | |
| --- | --- |
| Type of website: | |
| Type of content: | Porn Videos |
| Main Category: | DeepFake Porn |