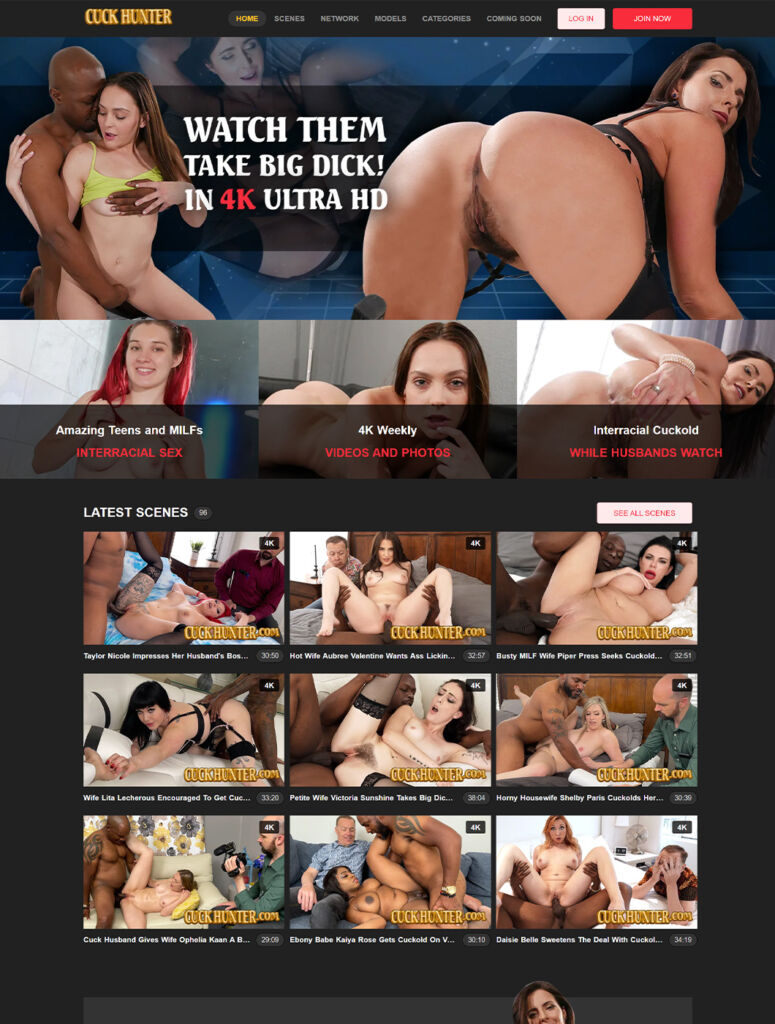 Cuckolding is one of the most in-demand porn niches in the industry. It is one of the controversial niches as well, showcasing third parties and the husband usually sighing and hurting by the sidelines, only to start stroking their already hardened dicks to the drool-worthy fucking show that's in front of him. There are only a few daring porn sites and porn stars dabbling in this interesting niche, and best, believe me, they're having the time of their lives.
It's pretty hard to look for a great cuckolding porno performance. The ones we usually find on our go-to free porn tubes only last for a few minutes, serving as a preview to make us drool and sign up to a site that'll only let us down. Well, that's for most of the time. Recently, I came across Cuck Hunter, and boy, I have to tell you, this is one of the few great cuckolding sites you don't want to miss out on.
Cuck Hunter isn't only revolving around cuckolding. It holds a lot of niches in each XXX film as well. It's too many to mention, but I'm pretty sure everything on that sexual fantasies list of yours will be ticked off by the time you watch a few videos. That's right, only a few. Each scenario is jam-packed with many situations that ultimately lead to the fucking. I know we hate long lead-on before the action begins, but you'll be hooked on this one, much like watching your favorite TV series.
Hunter and prey 🏹
So, who's the hunter and the prey in Cuck Hunter? It's pretty hard to tell. Sometimes it's the husbands looking for a longer, bigger dick to see how much their wives can handle, sometimes it's the wives wanting to punish their husbands for not satisfying them enough in bed, and sometimes it's the cuckolders, too, looking for an adventure to dive in. Cuckolding is not plain cheating, you know. It's more complex than that, and that's why it's the niche that hooks in most couples willing to spice up their sex lives.
There are several situations you'll be able to find in Cuck Hunters. The variety keeps the viewers coming back and swiping their cards for more. You'll need a membership with this one, but we'll talk about that later. Cuck Hunter's porno performances have creampies, BBWs, squirting, hairy, threesomes, and tons of threesomes.
Shocked by reading threesomes? Nobody said cuckolding was only exclusive to two individuals fucking in front of their spouse. What's even more amazing about Cuck Hunter is that the cuckolder is almost always black. You've got to put in some variety, or else it'll be as bland as an unseasoned dish. The wife must be black if the third party is white — you get the gist.
Spice up your wanking sessions by getting that front-row seat 😉
As I mentioned earlier, you'll need to acquire a Cuck Hunter membership before you can materialize every interracial cuckolding dream you have. Don't worry; Cuck Hunter's prices won't leave your wallet empty. Cuck Hunter has three price points you can choose from, and you can cancel anytime and easily if you want to. Here are the membership plans available at the moment:
$19.77 for one month 
$74.95 for three months 
$149.95 for one year 
These plans are recurring, so you don't have to worry about reading the payment terms and re-registering them every term. You can send your credit card payments via Visa, MasterCard, Discover, JCB, and Diner through SegPay, and they also accept PayPal.
Join the hunt or be hunted down
Honestly, being hunted down doesn't sound so bad. Everything always ends up with a dick in some wife's mouth, inside her pussy, or one in her mouth, in her pussy, and in her ass, too. Cuckolding is the most interesting porn niche, and you've got to see what amazing twists and niches Cuck Hunter adds to every video they upload.
As of writing, they only have 93 porno performances available in HD and SD. Of course, you'll be able to download them without hassle with a membership. Keep in mind that this porn site is relatively new. But don't worry, they don't falter when it's time to update, and the scenes are of great quality as well. Cuck Hunter also has photo galleries, all downloadable via zip files.
Acquiring a membership now will give you access to seven more porn sites. You'll get JOI Babes, Japan Lust, Les Worship, Nude Yoga Porn, POV Masters, Honey Trans, and Trans Roommates. If you don't feel like fapping to cuckolding scenes today, you can freely switch from Asian fucking to trans sensual sessions with just the price of one. What more can you possibly ask for? It's a paradise waiting for you.