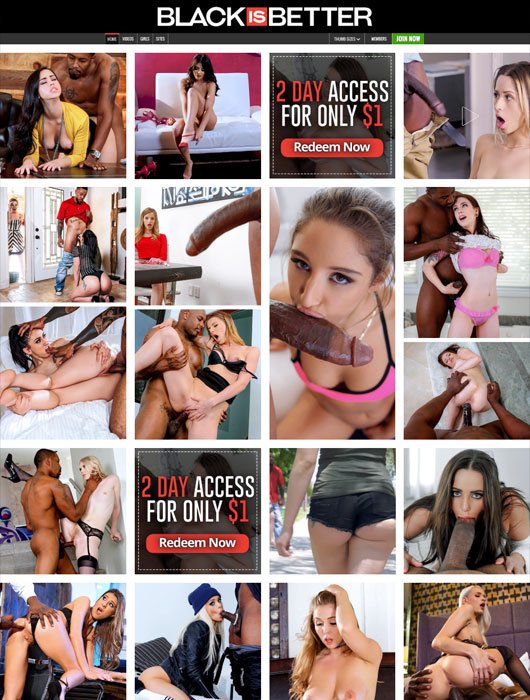 Have you ever noticed how petite teen girls like big hard black dicks? Well, blackisbetter.com is a site that makes that fantasy come to life.
Don't be surprised once you are redirected to babes.com since this is a Network, and BlackIsBetter is a part of that network. Of course, with the membership for the network, you get access to all of their shit.
The design is great!
I really liked the design. It was dark, slick and had all the elements one could hope for. Of course, you had lots of videos right off the bat and a lot of crap in general.
I mean, their dark layout makes the browsing experience pleasant. Not to mention that the site itself feels like it is a premium place.
But is the site worth the visit? Of course, nobody is here to look at the design, but it is nice to have some eye candy while watching your porn, right?
If you are interested in everything BlackIsBetter.com offers, I am here to explain it all. So, sit back, relax and continue reading. Simple as that.
No trailers…
I am always annoyed to see that these big or well-known sites do not have any trailers. This goes for the whole Babes Network.
I am sure most of us heard about this place, and for it not to offer some sugar on the side for the newcomers is bullshit. Having a couple of trailers here and there isn't that fucking hard.
Not to mention that you get to see a small preview if you hover over certain videos. So, explain to me why was it so hard to add actual trailers instead of that?
Other than that, there is not much I have to complain about. The tour page is quite straightforward, and you will see the gist right off the bat. But only once you register will you get to see their naughty videos… obviously.
Are the videos good?
Well, that all depends on what the fuck you are hoping to see. If you like interracial porn videos, then I am pretty sure that you will love Black Is Better as well.
Here, you get to see some of the hottest and most famous pornstars in the industry, and there are lots of fantastic porn videos they are featured in. These horny girls love to get down and dirty with big black dicks.
Many of their videos are very passionate, but that also depends on the video you choose. For example, one of the clips featured a gorgeous brunette who had sensual sex with her black man, and it was fucking amazing.
However, another video showed a hot redhead girl being banged while her husband had to watch everything. Now, that scene was even hotter, and it definitely made me get the tissues.
Not that many scenes yet…
Currently, you have about 90 scenes, and all the videos will come with galleries. The clips will last about 30 minutes, and there will usually be loads of pictures in a gallery, over 200… which is good.
However, that isn't that much content if you compare this place to other porn websites. On the other hand, all the videos are exclusive, and you can both stream and download them in HD… not to mention that you get access to other sites within the network, so it's something, I guess.
You have about four updates per month on this site, which is quite lovely actually. Even if they do not have that many videos, they are building up to it. Respect.
The scenes will develop differently, or however, you want to put it. But, it is always the same concept, there is an interracial couple who loves to fuck.
Access to the Babes network
The Babes Network has about 6 sites in total, and those are Babes Unleashed, Elegant Anal, Office Obsession, Step Mom Lessons, and obviously this one. All those sites are pretty self-explanatory as to what they have to offer.
This way, if you do not like something Black is Better has to offer, you can check out other sites within their network. There are over 2k videos across the network, and about 1500 galleries, which is a lot.
All their content is exclusive, and they are known for offering the hottest beauties out there. I guess that is why their whole network is called 'Babes'.
I browsed through all their beauties, obviously, and I am happy to say that all of their chicks are so fucking hot. I mean, they surely have a stash of the hottest women out there.
Downloads cost extra
Now, once you register and pay for your content, you expect to get everything they promised, right? Well, you do, sort of. If you choose to download any of their naughty videos, you will have to pay on top of their membership.
What the fuck is up with that? I already paid for the membership, so why the heck do I have to pay to download their content? That literally makes no sense.
The only other negative I could think about is that there ain't that many 4k videos. I say this only because they do offer two videos that are of 4k quality, but those were added like 2 years ago. Again, what the fuck is up with that?
So, is this a good site or not?
Well, that is not for me to decide. Do you like to watch horny girls suck and ride big black dicks? If you do, then you will surely enjoy the content presented here.
You have lots of horny girls who are simply ready to get on top and start riding, and I think that that is something everyone can enjoy watching.
Not to mention that you get access to the full network, so why the fuck not? All of their sites are amazing and have HD exclusive content, so enjoy!
All interracial videos.
Exclusive HD content.
Access to the network.
Loads of beautiful babes.
Downloads will cost you extra.