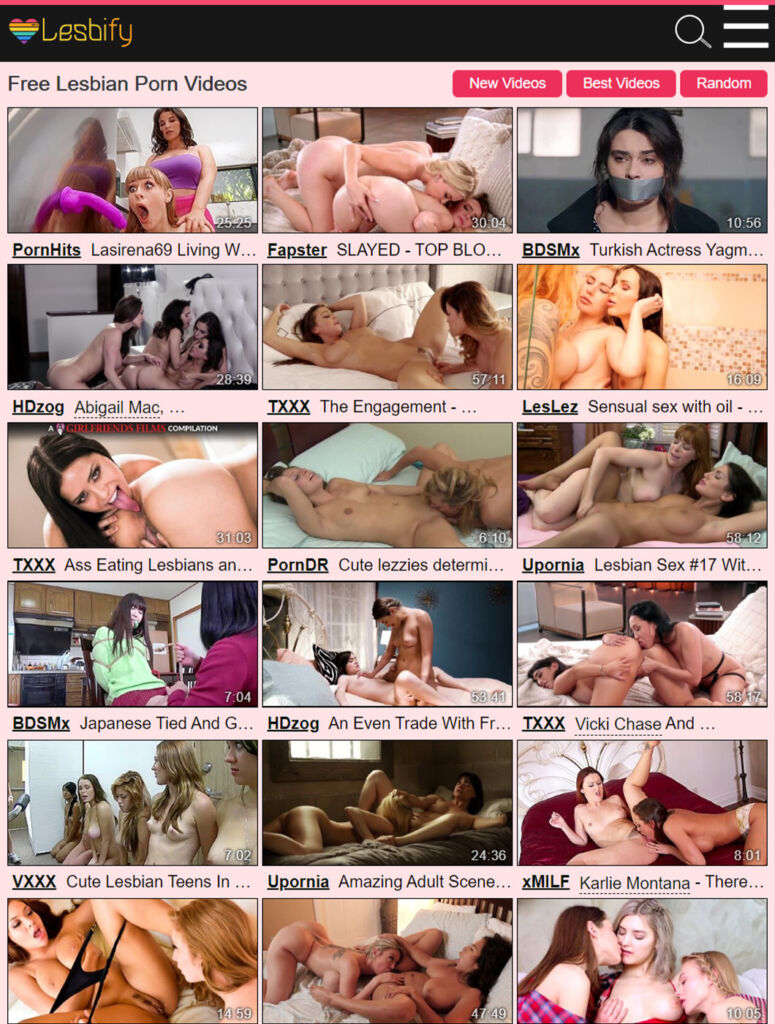 Lesbify — well, it's not as easy as I thought. 🤷
A long time ago, I thought everything was possible in this mortal world. Well, you know what the adults keep telling us: "if you can think it, then you can achieve it." Do you all know what I was thinking about?
Of course, I was constantly thinking about living in a mansion filled with chicks just like our good guy Mr. Hugh Hefner. But I was also thinking about girls licking other girls' pussies. Man, I was living the daydream. LOL.
It turns out that it's not that easy to do now that I'm an adult. You'll have to find a girl who's down and more than willing to get in a three-way, let alone fuck another pussy. Oh well, I guess they're missing out on something great. *shrug*
Of course, I knew this time would come. Look at me now, writing something about a porn site I've fapped about so heartily for the whole day. I told you (and I am always telling you all) nothing's impossible when it comes to the porn industry.
Let me introduce you to Lesbify. The best lesbian porn site ever made. But it's not just a porn site. It seems that it's a fucking portal. Hmm. Read on to find out! 
Want to avoid clicking through short scenes? You're in luck!
I'm going to mention one of my pride and joy first. I've recently discovered Lesbify, which has already taken up a big room in my pervy, cholesterol-filled heart. LOL. Not only is it filled with lesbians — yep, all pussies and no dicks! — but it also has scenes that can last you a lifetime.
You bet I was exaggerating. LOL. But most porn sites seem to get on the trend that short scenes are the way to go. Isn't it a fucking hassle to click through one porno performance after the other on your left hand while wanking using your right hand? It kills the fucking mood sometimes and elevates my temper, too! 
But what do you know, Lesbify just got a thousand times better with this single feature. I think you'll love it, too. It's the fact that every single one of Lesbify's XXX films is lengthy. Lesbify is filled with good old thirty to fifty-minute drool-worthy scenes that'll keep you on the edge of your seat every second! 
But of course, if you don't have a lot of time on your hands, there are a few four to six-minute runners that can satisfy your on-the-go carnal craving. Not bad, huh?
Hundreds upon hundreds? That's an understatement! 
Do you know those free porn tubes that declare they have millions of porn? We all know that's fucking impossible, right? You might be one of those gullible little shits if you don't know that. LOL. 
Don't cry! I was kidding. Don't worry, too, because Lesbify contains thousands upon thousands of lesbo porno performances that'll keep you more than satiated for probably years. 
Okay, I know you're thinking that I'm joking. So here, I'll give you an almost exact amount so you won't go bullshitting me out there. You'll get around 175,000+++ Lesbify XXX movies right at the tip of your fingers. I hope your butt's ready for all that sitting you're doing in front of your laptop or PC. LOL. But you can always stand while stroking that dick, right? *wink*
Lesbian fucking: Well, that's the only thing you'll get here. LOL
I'd be laughing if you still asked me about the categories. No question will remain unanswered here. So for the categories, well, all you'll be getting are full lesbo pornos. Nothing more and nothing less than that.
But of course, you can always branch out. What are you craving, anyway? Do you want some juicy MILFs grinding on each other? How about a collaboration between a hot and horny teen and a cougar?
There are tons of hot bitches you can choose from on Lesbify, don't worry. From a bunch of no-name fuckers to some of the most famous porn stars you've ever seen. Here are some of the names you should be looking out for:
April Olsen
Natasha Nice 
Ember Snow 
Angel Youngs 
Madi Collins
Aside from your usual lesbo fucking, you'll see some variety here. I'm not talking about your usual choices. You'll have a damn hard time choosing which one to fap. But that's another conversation. *wink*
You won't need a tour guide this time, that's for sure!
One of the catches of a good fucking site is its navigation. You know more than any other person out there. If you're reading this, you're well-versed in porn and dick-stroking; there's no doubt that.
However, it seems to be a different case regarding Lesbify. This porn site is a fucking gem, I'm telling you.
The homepage welcomes you with almost a hundred XXX films ready to be watched, click on it, and you're good to go. If you look around, you'll see only a few buttons and an almost unnoticeable header selection. With a black header and a few pink shades on the website, you'll surely be having a damn good time here. Not to mention an easy one. 
What makes this pussy site stand out? Well, aside from the rainbow heart on the upper left part…
Hmm, that's a good question. What makes this pussy site stand out? There are thousands of lesbian porn sites out there that offer similarly-made lesbian content. Isn't lesbian porn only made of repetitive pussy-licking scenes?
That's a good question again. LOL. I've got to pat my back for making these questions that I know are running through your head, dear reader. Aside from its pride-inspired logo, you've got to give them the merit of making a porn site as remarkable as this.
Now, with Lesbify, you'll have more uncomplicated porn-watching experiences with a basic ass porn site that won't boggle your mind. No need to register or make an account. You probably won't even need to search for a porn film anymore. Lesbify is spoon-feeding its viewers daily. Yep, all three million monthly visitors are being well taken care of. That's just how you should do it.
You see, Lesbify is some portal. 😉
Now, here are the most interesting things about Lesbify. Have I already mentioned that you can fap to their porno performances for free? Not a wild ad in sight! Just pure, full-length XXX films with no bothersome pop-ups and all that.
But without those pesky ads and with no membership program, how will this mind-blowing porn site survive?
To answer that question, you have to look at the XXX movie's title and figure something out. Spot a difference right there? At the front of each title are porn site names that you might already be familiar with.
That's because Lesbify is a lesbian porn portal that takes you to a new porn site with every porno you click on and watch. That's how they can maintain providing free services for everyone to enjoy. Isn't that nice? These porn makers do not run out of ideas. 
Now, with no card-swiping hindrances to think of, you can start unzipping those pants and unleashing that flag pole that has wanted to listen to its national anthem since you started reading this. LOL.