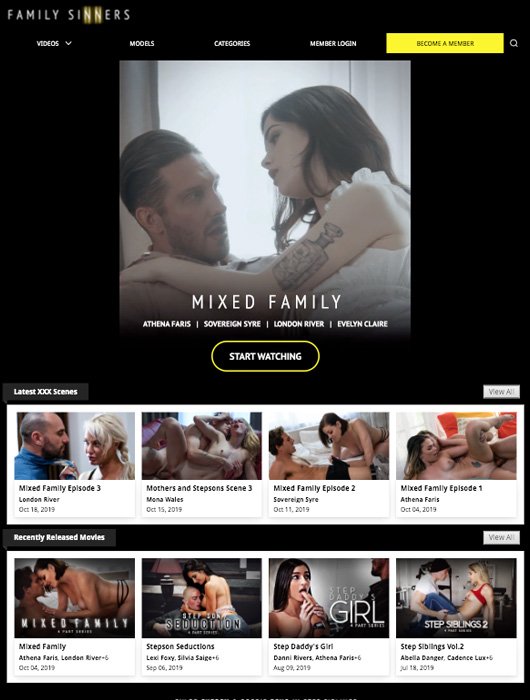 Family bondings – rarely happen nowadays, and if it does, everyone is glued to their phone like crazy. Doesn't anyone value face-to-face interaction nowadays? Especially during a pandemic, personal interactions are necessary to keep everyone sane. When was the last time you ever really bonded with your family? Yeah, I don't remember my last time either. 
On the other hand, Family Sinners shows us families that can't be separated, not even for a minute. I mean, it's nice to see how close they are, but it's too drool-worthy for someone who lives alone just like me. What better way to glue a family together than cum, right? It's sticky, organic, and offers the most fun way to produce. Hence, that's why the stepfamilies featured here are inseparable. 
No one's stopping these stepfamily members from having incredibly wild sex together. Yep, not even the law. Who's to stop them from fulfilling these sexual urges, right? Enjoy high-quality taboo family pairings in every porno performance you come across in Family Sinners. Its contents are exclusive to members only, so you better get that credit card ready for swiping.
The family that cums together stays together 💗
Everyone on the internet seems to promote intimate relationships with family members. What better way to do that than to have sex, right? In Family Sinners, you'll see stepdaughters riding the shit out of their stepdad's dicks, and stepsons slurping every last drop of their stepmom's pussy juice. It's an interesting sight and one that we wouldn't like to miss out on. 
Approximately 345 models in Family Sinners are ready to fulfill your sinful sexual fantasies and cravings. Incest? What's that? There's no such thing here! If you think that every sexual scenario ends up just the same, well, you're damn wrong about that. Family Sinners like to keep their porno performances as colourful as each family member is. Each title reflects what happens in each performance. My favourite has got to be the blockbuster; the stepdaughter gets educated by the hunky stepdad in bed. 
Family Sinners is filled to the brim with MILFs and DILFs armed with the knowledge in fucking and the skills in seduction. They're exceptionally ready to teach the younger generation how to blow cocks properly, ride dicks, swallow cum, eat pussy, and have sex like never before. There's even revenge sex here for the bigger families and our most awaited orgies filled with the birds and bees. Only this time, the birds and the bees materialize instead of getting talked over dinner or whatnot. 
The family bonding that'll keep you drooling for ages 🤤
As of writing, Family Sinners contains approximately 272 porno performances in their collection. Don't worry; it's ever-growing with consistent weekly updates of one video and one photo set. You're guaranteed not to run out of taboo content to stroke your dick to for ages. But if you're too busy to sit down and watch, Family Sinners offer approximately 272 galleries containing an average of 150 photos each. Individual photos can be saved on whatever device you use, and galleries can be downloaded in high-resolution zip files. What's stopping you from fapping to your sexual fantasies now? Oh, all contents are exclusive, by the way. 
You can stream every porno scenario in full 4K ultra HD. Save yourself from all the squinting that kills the mood. Family Sinners doesn't skimp on quality for your ultimate fapping experience. Of course, as expected, every porno and photo is shot professionally. Unlike the usual porn we're used to with overlit scenes and scripted moans, there's a touch of authenticity in Family Sinners, slightly convincing us of their taboo relationships. 
Although the storylines and niche are far from unique, they make up for it with explicitly shot scenes that define their selling points. More than your usual family fucking situation, Family Sinners will have you going crazy over the fucking that takes place in each of their movies by the shots they show you. It's a subtle detail we won't look into, but if you're a veteran fapper, I'm pretty sure you'll appreciate this one. 
Each porno runs for approximately 25 minutes each, giving ample time for each scenario to play out. That time frame also gives way to much more passionate sloppy blowjobs, vaginal and anal penetrations, cum shots, boob play, and several hardcore and softcore fucking scenarios included in each situation. Of course, Family Sinners isn't exclusive to dicks and pussies only. You'll get to feed your sexual cravings with lesbian action too.
Join in on the family fun 
Like any hospitable family, Family Sinners would like it if you join in on all the sexy fun they're having. Noting that all contents here are exclusive, you'll have to shell out a couple of dollars to be a part of the family. Don't worry! They've long ensured you'll get more than your money's worth with all the contents they'll serve you. 
If you haven't made up your mind yet, Family Sinners offers 2-day streaming only limited access to the site for only $1.00. Feel free to test the waters before you dive in. But if you've already decided that your dick deserves more than just limited access, here are the membership plans you can choose from:
$7.00 for the 7-day streaming only limited access 
$24.99 per month (recurring)
$99.99 per year (recurring)
Family Sinners currently accept Discover, JCB, MasterCard, and Visa payments through Probilling and Epoch, ensuring a discreet transaction. You don't have to worry about anyone knowing what you've been spending your money on. 
Your well-deserved porno performances and more 
You know your dick deserves more than the generic movies you see on free porn sites and other paysites. That's what Family Sinners is here for. But more than that, acquiring a premium membership in Family Sinners opens the gates to other Mile High Media porn sites, including:
Sweetheart Video
Reality Junkies 
Doghouse Digital
Sweet Sinner 
All of these sites provide different kinds of niches for every sexual fantasy you have. Prepare to tick off everything in your sexual fantasies and cravings list because everything will be served to you on a shiny silver platter exclusively. So, what are you waiting for? The porn you deserve is here, and it's waiting for you to stroke your stick shift to every porno performance it can provide.