It's not Oktoberfest, but you'll be having one hell of a feast here!
German porn — this category is not as common as we think it is. Even though the list says so, there are only two German porn sites that the Paid Porn Guide deemed worthy of including here. You know how meticulous the guys behind the Paid Porn Guide are. You won't find porn that's a flop, but you might find porn sites that aren't functioning properly. LOL. Now going back to what we were talking about — ah, right, German porn! When was the last time you fapped to one? Have you ever even stroked your consistently throbbing cock to German fucking? If you haven't, here's your chance to do so! Grab it while it's hot!
Oktoberfest is the one thing everyone knows about the Germans. It's a merry fest filled with all kinds of craft beer — it's basically like heaven when it happens! But as the name says, it only happens every October. The Paid Porn Guide can't agree with that! We need something German that can happen anytime we want it to. Hence, the creation of this mind-boggling list. I did say it is mind-boggling because who thought that German porn would be like this?! It's amazing and intriguing all at the same time. Probably because, just like many of you, it's one of the few times I've seen German people fucking. And no, it's not all shouting and noisy like you think. LOL.
When I say German porn, what comes to your mind? Aside from all the loud noises, aggressive words, and all that, what else? German people always come off as strong, aggressive extroverts who like to face everything head, which applies to both men and women. The Paid Porn Guide puts a twist on that because you'll see two entirely different porno categories in the porn sites included in the list. Don't worry; there's nothing that will shock you here. LOL. Although you might need to collect your jaw from the ground with all the amazing porno performances you're about to wank to.
You don't have to attend any German language classes here, don't worry.
One factor that prevents many people from wanking to XXX movies from other countries is the language barrier. It is uncomfortable to watch role-playing scenes before the actual fucking, and the characters are all mumbling something we don't understand. Yeah, well, I hate to break it to you, but that's unavoidable. You can always press the skip button until everyone's butt naked. Fortunately, for these two German porn sites, you won't have to attend any German language classes anymore. Just good old stimulating scenes that'll leave you overflowing with pleasure and cum.
But what's in store for you here, anyway? We know it's German porn, but what kind of German porn? Well, since there are only two porn sites in the Paid Porn Guide's list called the best German porn sites of 2022, you won't be getting much variety. If you're looking for variety, this isn't the right place. Who knows? Maybe next year, this list will expand. But for now, we will all have to make do with this. But if you think there might not be enough to go around, don't worry. There's enough to fuel your lone rangering sessions, alright.
As you know, Germans love a good challenge. That's why the only choices you'll be given here are BDSM and golden showers. Don't expect anything mediocre from them! You'll be drooling all over the role-playing situations, women dominating men, humiliation, whipping, pegging, and more. If you have a dominatrix kink or crave to submit, this one is the best for you. If not, why not fancy yourself a few golden showers in public while being fully clothed? It's not entirely a CFNM scene, but it's a good mix of both before they get to the actual fucking.
Dip your feet in the German waters and see if it'll do you some good. *wink*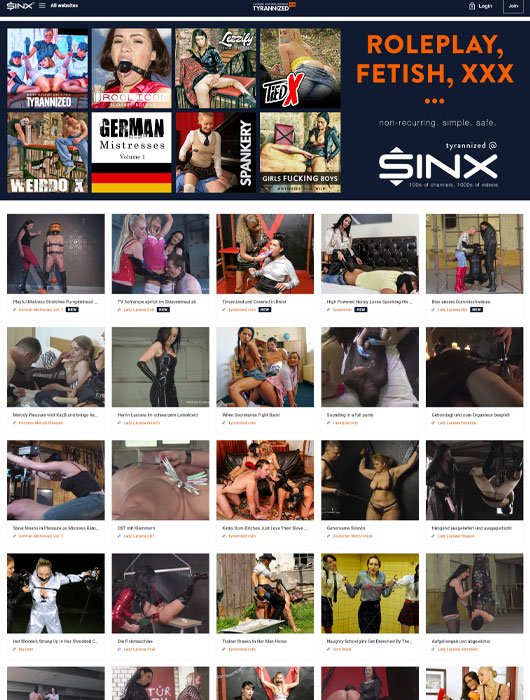 Mistresses do what they do best: Roleplay, Domination, Humiliation, Whipping, Pegging and more. Watch these male slaves get exactly what they deserve!